TCRM199
JumboSwitch 19'' 1U Rackmount Card Cage
Features
The 1U chassis is 19" wide and holds one Main / Management card and one interface card option.
The TCRM199 holds one Main/Management Combo Card and one interface card. The TCRM199i holds one or two interface cards.
The dual load-sharing power supplies automatically switch over in the event a power failure affects one of the supplies. It should be noted that only one power supply is required to operate a 1U Card Cage. The power supply options are:
12VDC (standard)
24VDC, -48VDC and 125VDC (optional)
115VAC / 230VAC
The power supply (DC only) on the Model TCRM199 can be remotely managed via web, SNMP Serial Console or Telnet. Power supply cycling and monitoring ON/OFF status can be done remotely.
Standard temperature range is -20°C to +70°C and the extreme temperature option is -40°C to +80°C.
Ruggedized design for Harsh Environments
Cages Hold 1 or 2 Interface Cards
Extreme Temperature (-40°C to +80°C) Optional
Power Supply Managed via Web, SNMP, Serial Console or Telnet (TCRM199 with DC only)
Various AC & DC Power Ranges
Built-In Power Redundancy
Member of the JumboSwitch® Family
Applications
The TCRM199 Card Cage is designed with sturdy construction to house TC products in standard 19" racks.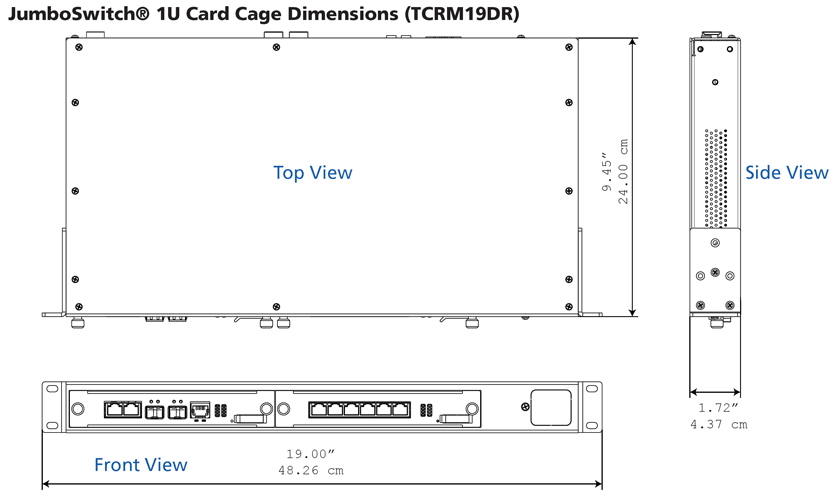 Specifications
Width19" (48.3 cm)
Height 1.7" (4.3 cm)
Depth10.5" (26.7 cm)
Power SupplySingle 115/240VAC, 24VDC, -48VDC, 125VDC
For assistance with this product or to request a user manual please contact Technical Support.