TC3840
JumboSwitch® Ethernet, Voice & Data on one Rugged Gigabit Ethernet Switch Platform
Ideal as an Ethernet Backbone or Sub-Network, the TC3840 integrates 15 modular Ethernet, Voice & Data interfaces on one rugged Gigabit Ethernet platform
The most advanced Modular Gigabit Ethernet Switch of its type, the JumboSwitch® seamlessly integrates Ethernet, Data & Voice on one rugged Gigabit Ethernet platform. It offers all capabilities of standard Industrial Switches, but differs because its modular design offers users the flexibility of integrating up to 7 hot-swappable interface cards in one chassis: (Ethernet, RS232/485, T1/E1, T3/E3, Analog, Telephone, Dry Contact, Teleprotection [G.703, C37.94, Analog & RS232/485] and Ethernet over PDH).
To view chassis and card options:

For assistance with this product or to request a user manual please contact Technical Support.
Features
Integrates Ethernet, Voice & Data on One Rugged Platform
Runs over Existing Infrastructure (Fiber, T1/E1, T3/E3, Microwave or SONET/SDH)
Extensive Network Management System (TC

V

iew®)
12 Modular, Hot-swappable Interface Cards
4 Chassis Options to Optimize Scalability
SONET/SDH Alternative or Sub-Network
Supports Teleprotection (G.703, C37.94, Analog & RS232/485)
Applications
Because of its ability to bridge IP, TDM over IP and VoIP, the JumboSwitch is ideal for situations requiring more than just a traditional Ethernet Switch. Furthermore, it enables additional cost savings (CAPEX & OPEX) because it runs over all existing infrastructure including T1/E1, T3/E3, SONET/SDH & microwave.
All JumboSwitch Family products are available industrial grade and meet or exceed all pertinent industry and environmental specifications including IEC 61850-3, IEEE 1613, CSA 60950, NEMA TS-2/Caltrans TEES & ITS.
Typical applications include:
Multi-Service Campus Networks or Sub-Networks
Upgrading Legacy Networks
Economical, Efficient Alternative to SONET/SDH
Migration to Smart Grid
SCADA Communications Networks
Teleprotection Relay Communications
Substation Automation
Positive Train Control Communication Networks
Cellular Backhaul
Disaster Recovery
IP Security & Video Surveillance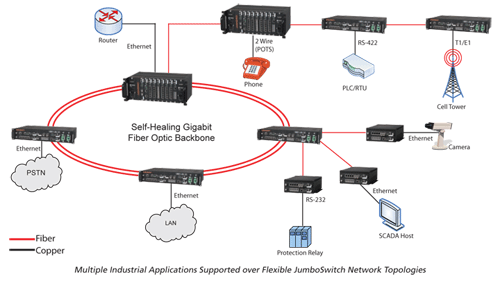 Specifications
Interface Card Options
6-Port Gigabit Copper Ethernet Switch (TC3841)
Featuring a wide range of advanced networking features, the TC3841 is a 6-Port Gigabit (10/100/1000M) Copper Ethernet Switch. Advanced networking features include Rate Limiting, VLAN, QOS and Security. Rate Control gives users, especially data service providers, the ability to control or limit bandwidth.

Learn more about the 6-Port Gigabit Copper Ethernet Switch Card
6-Port SFP Gigabit Ethernet Switch (TC3842)
Featuring a wide range of advanced networking features, the TC3842-1 is a 6-Port SFP Gigabit Ethernet Switch. It is compatible with both SFP optical and copper modules and supports 850nm multimode and 1300/1550 single mode. Three versions are available:
- TC3842-1: 6-ports for 1000Base-SX/LX SFP Modules
- TC3842-2: 3-ports for 1000Base-SX/LX, 3-ports for 100Base-FX SFP Modules
- TC3842-3: 6-ports for 100Base-FX SFP Modules

Learn more about the 6-Port SFP Gigabit Ethernet Switch Card
4-Channel RS232/422/485 Serial Server (TC3847-1)
Compact and simple to configure, the TC3847-1 Serial Server transports four channels of RS-232 or RS-422/RS-485 data over existing Layer 2/Layer 3 networks. Each channel is independent, so it is possible to mix RS-232 and RS-422/RS-485. The TC3847-1 supports point-to-point serial tunneling and serial server configurations on a per port basis.

Learn more about the 4-Channel RS232/422/485 Serial Server Card
T1 / E1 over Ethernet / IP (TC3845-1)
Featuring extremely low latency, the TC3845-1 T1/E1-over-IP Gateway transports T1/E1 over Ethernet/IP networks. It is simple to configure and supports both point-to-point and point-to-multi point topologies. A High-precision near Stratum II reference clock (OCXO) is used for optimal jitter and wander performance that complies with the ITU-T G.823 and G.824 standards.

Learn more about the T1 / E1 over Ethernet / IP Card
Voice-over-IP Virtual PBX (TC3848)
TC3848 is a complete telephony solution that merges the simplicity of Ethernet with the call processing features of PABXs into one compact interface card. With no central hub required, the TC3848 utilizes cutting edge VoIP technology to become a self-contained phone system/product.

Learn more about the Voice-over-IP Virtual PBX Card
C37.94-over-IP Gateway (TC3846-2)
This card is an IP Gateway that extends IEEE C37.94 fiber optic circuits for Teleprotection Relays in Power Utilities. Its extremely low latency is achieved by using high-performance adaptive clock recovery, buffering and forwarding technology.

Learn more about the C37.94-over-IP Gateway Card
8-Ch. 600ohm Analog/Dry Contact-over-IP Gateway (TC3846-6)
The TC3846-6 supports frequencies from 300Hz to 3.4KH and achieves minimal end-to-end processing delay (latency) by using high performance buffering and forwarding technology. The TC3846-6 is capable of running continuous pilot tones without interruption or quality degradation.

Learn more about the 8-Ch. 600ohm Analog/Dry Contact-over-IP Gateway Card
8-Channel Dry Contact-over-IP Gateway (TC3847-5)
The TC3847-5 is ideal for situations where a user needs to extend dry contacts across existing Layer 2/Layer 3 networks and low latency is important. The TC3847-5 achieves minimal end-to-end processing delay (latency) by using high performance buffering and forwarding technology.

Learn more about the 8-Channel Dry Contact-over-IP Gateway Card
4-Channel ''Low Latency'' Serial Server (TC3847-3)
Featuring support for teleprotection relays, the TC3847-3 Turbo Serial Card transports four channels of RS-232 and four channels of RS-422/ RS-485 serial data over existing Layer 2/Layer 3 networks. Specially designed to meet stringent real time requirements for protective relay communications in the power utility industry, this Turbo Serial interface card can perform at less than 3msec. latency, end-to-end, through an Ethernet network.

Learn more about the 4-Channel ''Low Latency'' Turbo Serial-over-IP Card
G.703/64K-over-IP Gateway (TC3846-1)
Featuring extremely low latency of less than 5 msec., one way, the TC3846-1 G.703/64k-over-IP Gateway extends 64kbps G.703 co-directional circuits over Ethernet/IP networks. It is simple to configure and supports both point-to-point and point-to-multi point topologies. Extremely low latency (minimal end-to-end processing delay) is achieved by using high-performance adaptive clock recovery, buffering and forwarding technology.

Learn more about the G.703/64K-over-IP Gateway Card
Ethernet / IP-over-T1/ E1 (TC3844-1)
The TC3844-1 Ethernet-over-T1/E1 Gateway allows the user to extend Ethernet backhaul applications to remote locations over existing TDM Telecom infrastructure. It converts the Ethernet data into framed or unframed T1/E1 format for transmission over T1/E1 links, and the modules are used in pairs. The TC3844-1 performs store-and-forward of frames with Ethernet traffic conditioning and bridging functions at wire speed, fully utilizing the TDM circuit.

Learn more about the Ethernet / IP-over-T1/ E1 Card
Ethernet/IP-over-T3/E3 Gateway (TC3844-3)
The TC3844-3 Ethernet-over-T3/E3 Gateway allows the user to extend Ethernet backhaul applications to remote locations over existing TDM Telecom infrastructure. It converts the Ethernet data into framed or unframed T3/E3 format for transmission over T3/E3 links, and the modules are used in pairs. The TC3844-3 performs store-and-forward of frames with Ethernet traffic conditioning and bridging functions at wire speed, fully utilizing the TDM circuit.

Learn more about the Ethernet/IP-over-T3/E3 Gateway Card
Ordering
For More Information