News and Product Updates
07/12/2011 - Managed Industrial Ethernet DIN Rail Switch
IRVINE, CA-----Ideal for harsh environments, a new managed 8- or 14-port Industrial Ethernet DIN Rail Switch from TC Communications supports Industrial Automation and Mission Critical redundant ring networks.
The Model TC3314 supports 6 or 12 copper 10/100Base-TX ports and two 1000Base-TX/LX SFP ports. It enables distances to more than 60 miles and offers a "one-fiber, bi-directional" option to maximize fiber optic cable usage.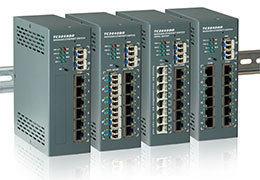 See Industrial Ethernet Switch Datasheet
Intended for Industrial Ethernet applications, the TC3314 is a robust, feature-laden mission critical network solution for all types of networks including industrial Automation, Process Control, Manufacturing, SCADA, Power Utilities, Oil Refineries, Transportation, Traffic Control, Light/Heavy Metro Rail systems and Railroads.
Advanced networking features including Rapid and Multiple Spanning Tree (RSTP/MSTP), QoS, VLAN, Network Time Protocol (NTP) and Rate Limiting. Diagnostics include unique features such as built-in operation Current, Voltage and Temperature monitoring sensors and remote optical measurements for Launch Power and Sensitivity.
The TC3314 is compatible with TC's flag ship product, the JumboSwitch®, and can be used as a remote node in any JumboSwitch network.
An Industrial Hardened version supports temperature ranges from -40ºC to 80ºC and meets or exceeds all pertinent industrial environmental specifications including IEC 61850-3, IEEE 1613, NEMA TS-2, etc. Power redundancy is standard and source options include 12 VDC, 24VDC, -48VDC or 115/230VAC.
*************** TC3314 Product Updated ***********************
The TC3314 mentioned above has been updated with the TC3840DR .
Click here to
see
the datasheet.
**************************************************************