News and Product Updates
28 Page TC Communications Product Catalog Features 60 Ethernet, Voice & Data Networking Products
09/11/2008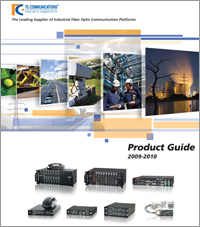 A new 28-page product catalog featuring Ethernet, Voice & Data fiber optic networking products is now available from TC Communications.
2010 Product Guide for Industrial Ethernet Products
This new Product Guide includes benefits, features, specification charts and application diagrams for more than 60 different fiber networking products. Its purpose is to help customers quickly search through different product categories to locate appropriate products for specific applications.
The highlight of the Product Guide is TC Comm's flagship product, the JumboSwitch®, an industrial grade (-40°C to 80°C), fully-managed and easily scalable Modular Gigabit Ethernet Switch that integrates up to seven hot-swappable Ethernet, Voice & Data interface cards onto a Gigabit backbone Ethernet fiber optic network.
Product categories include:
Industrial Gigabit Ethernet Modular Switch Series
Ethernet Switches & Media Converters
Redundant Multiplexers/Switches
Fiber Optic Modems & Multiplexers
Telephone/Leased Line/Intercom Extenders
High/Low Speed Mode Converters