News and Product Updates
06/24/2008 - Industrial Grade VoIP Virtual PBX Ideal for Harsh Environments
The first high quality industrial grade Voice-over-IP Virtual PBX is now available from TC Communications. The Model TC3848 VoIP Virtual PBX is a self-contained phone system that merges the simplicity of Ethernet with the call processing features of PBXs. Ideal for enabling phone service over private LANs, the TC3848 supports temperature ranges from -40°C to 80°C and is available with Conformal Coating. It is manufactured with special components, connectors and circuitry to ensure reliable operation in the event of wide temperature swings, electromagnetic interference (EMI), radio interference, vibrations, or moisture and humidity fluctuations.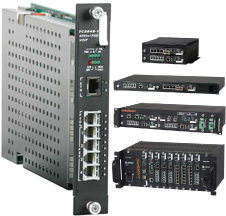 Compatible with analog phones, the TC3848 connects directly to existing LANs and does not require a central hub or PBX. QoS prioritization is provided to ensure consistent, high voice quality regardless of network traffic.
The TC3848 is available with 4 FXS/1FXO or 5 FXO ports and can be housed in the JumboSwitch (Model 3840) 4U or 2U high Card Cage or in a Stand Alone Adapter. It meets or exceeds pertinent industry environmental specifications including IEC 61850-3, IEEE1613 & NEMA TS-2.
The TC3848 has a built-in address book that allows it to operate as a fully functioning telephony system for up to 100 phone numbers, without the need of an additional SIP server or Call Manager. However, it is SIP compatible and will work with an external SIP server. All popular call processing features are supported including Echo Cancellation, Automated Attendant, Call Conferencing, Call Forwarding, Music on Hold, Call Transfer, Call Waiting, Hot Link, Group Hunting, Volume Control, Mute and Caller ID.
Management is both simple and comprehensive and can be accessed via a web browser, Telnet, Serial Console, or SNMP. Password protection prevents unauthorized phone service use. Diagnostic LEDs include power, Ethernet status, and Ring and Hook status. Power redundancy is standard.