News and Product Updates
01/20/2016 - Carrier Ethernet JumboSwitch® Is Here!
Carrier Ethernet JumboSwitch®
View the product Page for full specifications
The Carrier Ethernet JumboSwitch® is an enhancement in speed, security, and power.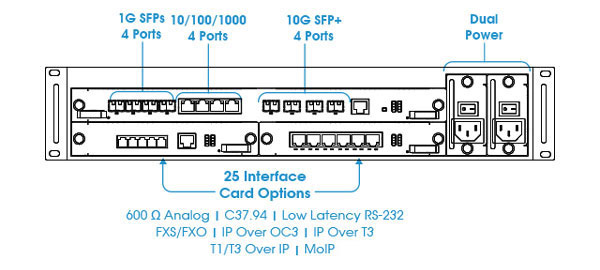 As more devices converge toward IP, it has become increasingly important to standardize services while operating at higher speeds, more efficiency, and while meeting stringent security requirements. This product is designed to exceed these requirements. The Carrier Ethernet JumboSwitch offers deterministic service performance over an Ethernet network.
Features:
Carrier Ethernet 2.0 Compliant
✔ E-Line - provide point-to-point Ethernet private line service
✔ E-LAN - provide multipoint-to-multipoint Ethernet private LAN service
✔ E-TREE - provide rooted-multipoint Ethernet private tree service
✔ IEEE 1588v2 PTP and SyncE Clock Synchronization
✔ ERPS (Protection Switching) sub 50msec ring recovery
✔ Versatile traffic management capability with policing and shaping
Supports IEEE 1588 and equipped with core Ethernet capabilities,
as well as CCTV, IP camera capable.
Configuration:
The Carrier Ethernet JumboSwitch® features 12 ports:
• 4 Ports of 10G SFP+
• 4 Ports of 1G SFPs
• 4 Ports of 10/100/1000 Copper
And 2 expansion slots for interface cards.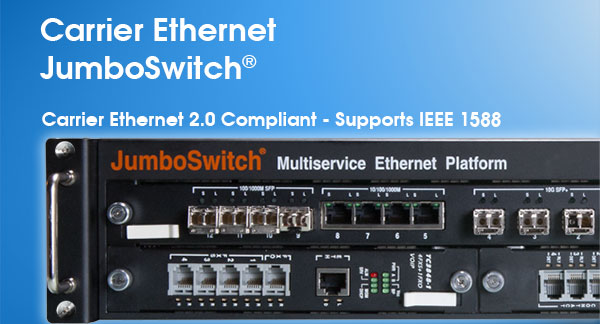 Adding to the JumboSwitch Family
The Carrier Ethernet JumboSwitch® was created to enhance TC's current JumboSwitch® family of interface cards such as the T1/E1-over-IP(TC3845-1), Analog & Dry Contact Over IP(TC3846-6), Industrial VoIP(TC3848-1/-2), Modem-over-IP(TC3848-3/-4), and etc. This product brings the JumboSwitch® system to a ubiquitous and standardized carrier-class service.
Secure and Dependable
Teleprotection over IP with 10G JumboSwitch®.
Performance for Teleprotection:
• Low Channel Delay
• Low Channel Delay Variation
• Sub 50ms protections switching
Resiliency:
• Dual power supplies (hot-swappable, AC & DC)
• Replaceable fan tray (hot-swappable)
• Hot-Swappable interface cards
• Industrial Hardened for operation in harsh environments
• Card and Port-level traffic redundancy
• Management sub-system redundancy
• Domain clock redundancy
• Provides advanced Carrier Ethernet services for utility communication applications
Contact Us for more information on the Carrier Ethernet JumboSwitch®