TC3720
Managed Fiber Optic Ethernet Switch w/Self-Healing Ring (6Tx + 2Fx)
Features
The TC3720 10/100M 6-Port Self-Healing Ring Ethernet Switch is a low cost solution for linking multiple RTUs & PLCs in industrial and SCADA fiber optic networks.
Intended for Self-Healing Ring topologies, the TC3720 Ethernet Fiber Optic Switch interconnects up to six 10/100M devices at each drop. Network settings can be set or changed via a Web-based configuration user interface.
Ring Self-Heals within 250ms
Web-Based/Serial Configuration
IEEE 802.3, 802.3u, 802.3x Compliant
6 Ethernet 10/100-Base Auto-Sensing UTP Ports
2 Fiber Optic 100Base-FX Ports
Standard Single Mode Distance of 50km (optional 100km)
Multimode or Single Mode (1300/1550nm)
Industrial Hardened (optional)
12VDC, Optional 24VDC, -48VDC, 125VDC or 115/230VAC
Applications
The TC3720 is frequently used to interconnect Remote Terminal Units (RTUs) or Programmable Logic Controllers (PLCs) in Utility substation SCADA Networks that require multiple channels and the reliability of a Self-healing Ring Topology. It is also used for similar connectivity applications in Traffic Control, Industrial Process Control and Security System Networks.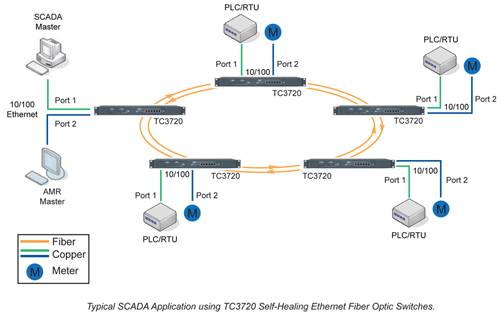 Specifications
Data Rates
Rates10/100 Mbps (auto-sensing)
Optical
TransmitterELED/LASER*
ReceiverPIN Diode
Wavelength1300nm Multimode, 1300/1550nm Single Mode
Fiber Optic ConnectorsST, Optional FC, SC
Loss Budget* - 1300/1550nm
LED/ELED15dB MM @62.5/125µm
LASER20dB SM @9/125µm
Interface2 Ethernet 100Base-Fx
Visual Indicators
System LEDsPWR A, PWR B, Vcc
Port Status (each port)100M, FULL/COL, LINK/ACT
Electrical
Switch Ports6
ConnectorRJ-45 Female
InterfaceEthernet 10/100Base-T
StandardIEEE 802.3/3u/3x
Power
Standard12VDC @ 500mA
Optional24VDC, -48VDC, 125VDC, 115/230VAC
Temperature
Operating-10°C to 50°C
Hi-Temp (optional)-20°C to 70°C
Extreme Temp (option)-40°C to 80°C
Storage-40°C to 90°C
Humidity95% non-condensing
Physical (Rackmount Unit)
Height(3.53 cm) 1.39"
Width(48.26 cm) 19.0"
Depth(24.80 cm) 9.80"
Weight(544 gm) 1.2 lbs
* Contact factory for higher requirements
Product version may differ from current manual. For assistance or proper manual version please contact Technical Support.