TC3847-6
8-Channel Alarm Monitoring
Features
The dry contact closure monitoring interface card works with the TCView network management system to display remote closure status at the central TCView server site.
The JumboSwitch® series is a TDM over IP/Ethernet based solution designed to emulate time-division multiplexing over packet switched networks (PSN). TDM over IP/Ethernet is a TDM pseudowire (PW) technology making it possible to provision E1, T1, E3, T3, STS-1 and serial data services across PSN's such as IP, MPLS or layer 2 Ethernet Networks.
Dry Contact Closure Monitoring
Remote Relay Control
Works with TCView®
Provides MIB Files; Works with 3rd Party SNMP Management Software
VLAN & QoS Support
Temperature & Power Consumption Monitoring
Extreme Temp (-40°C to +80ºC) Optional
Meets or Exceeds IEC 61850-3, IEEE 1613 & NEMA TS-2 Standards
Member of the JumboSwitch® Product Family
Applications
Specific applications include monitoring the open/close status of equipment cabinet doors, maintaining the security of controlled premises, or connecting to fire alarms or motion sensors for detecting intrusions into protected areas.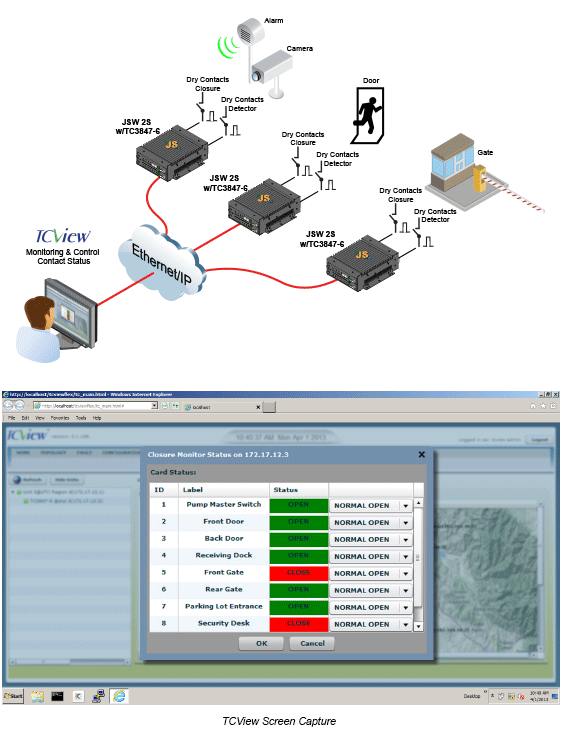 Specifications
Connection Capacity
Dry Contact8 Ports
Ethernet1 Port
Electrical
Dry Contact Interface
Load Voltage (peak AC)60V
Load Voltage (DC)60V
Continuous load current0.55A
Peak load current1.5A
Max On Resistance2.5 Ω
Output Capacitance150pF
Detector Max input voltage9V
Ethernet Interface
StandardsIEEE 802.3, 802.3u, 802.1p&Q
ConnectorRJ45
Console Port2.5mm
Regulatory Approval
CE, FCC Part 15, CISPR (EN55022) CLASS A, IEC 61850-3, IEEE 1613, NEMA TS-2
LEDs
Unit StatusPWR (A, B), Alarm Vcc, BP, MGM>
PortStatus
EthernetLink/Act
Power
Standard12VDC
Optional24, -48 VDC, 90-260 VAC, 50/60Hz
Power Consumption< 10W
Operating Temperature
Standard Temp-20°C to 70°C
Extreme Temp-40°C to 80°C
Storage
Temperature-40°C to 90°C
Humidity95% non-condensing
Physical (rack mount card)
Height(3.15 cm) 1.24"
Width(17.78 cm) 7.0"
Depth(22.86 cm) 9.0"
Weight(0.3 kg) 0.75 lbs
For assistance with this product or to request a user manual please contact Technical Support.