TC1230
RS366 Dial-Up Fiber Optic Modem ("Pocket Rocket")
Features
Intended for Video Conferencing applications, the TC1230 Fiber Modem transmits RS-366 dial-up information between Codecs, CSU/DSUs, Hubs & other Network Devices.
Unique and highly specialized, the TC1230 RS366 Fiber Optic Modem is designed specifically for Video Conferencing applications. It transmits RS-366 dial-up information between Codecs, CSU/DSUs, Hubs and other Network Devices at the demarcation point.
Async Data Rates up to 56 Kbps
Supports all 11 Control Signals
Multimode (850/1300nm) or Single Mode (1300/1550nm)
6 Status LEDs
Distances up to 80Km
Sturdy Compact Metal Case
High Temperature Version (optional)
Applications
The TC1230 is typically used to transmit dial-up information from a remote Codec to a CSU/DSU at the Telco demarcation point over single mode or multimode fiber optic cable. In addition to adding distance flexibility, it provides immunity from EMI/RFI interference, ground loops and lightning strikes.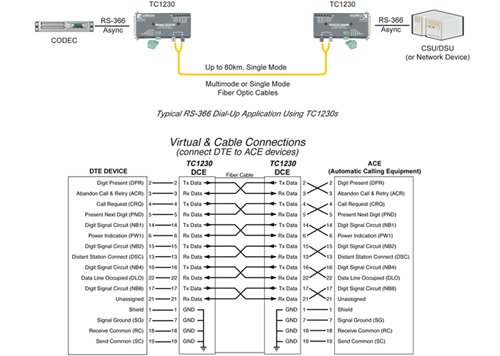 Specifications
Data Rates
Async (per channel)up to 56 Kbps
Optical
TransmitterLED/ELED
ReceiverPIN Diode
Wavelength850/1300nm MM, 1300/1550nm SM
Fiber Optic ConnectorsST, Optional FC
Loss Budgets * - 850/1300/1550nm
Multimode @62.5/125µm15dB
Single Mode @9/125µm20dB
Electrical
ConnectorDB25 Male
Interface(DCE) RS-366
System
Bit Error Rate1 in 10

9

or Better
Visual Indicators
LEDsPower, Tx, Rx, Sync
Power
Standard12VDC @250mA
Optional115/230VAC (with External Power Cube)
Temperature
Operating-10°C to 50°C
Hi-Temp (optional)-20°C to 70°C
Storage-40°C to 90°C
Humidity95% non-condensing
Physical (Standalone Unit)
Height(2.24 cm) 0.88"
Width(10.05 cm) 3.96"
Depth(7.77 cm) 3.06"
Weight(198 gm) 6.98 oz
* Contact factory for higher requirements
Product version may differ from current manual. For assistance or proper manual version please contact Technical Support.