TC8916
Broadcast & Receive Device (8-24 Port: RS232/RS-422)
The TC8916 Broadcast & Receive device is used in SCADA or poll-response networks with a Star topology to link up to 23 ports from a SCADA Host to RTUs.
Product version may differ from current manual. For assistance or proper manual version please contact Technical Support.
Features
Supports Polled/Response SCADA Networks
RS-232 or RS-422
Up to 24 Channels; Can be Cascaded
Anti-Streaming Capability on Each Channel
Hardened Temperature version exceeds NEMA & CALTRANS specs
LED Indicators for Each Channel's Tx & Rx Status
Stand Alone or Rackmount
Applications
The TC8916 is often used in SCADA applications with a Star topology to link a SCADA Host to RTUs. The TC8916's RS-232/RS- 422 user ports can be extended with the use of a fiber modem or multiplexer. When the Host Polling Device sends information to the TC8916 via the RS-232/RS-422 Host Port, it will broadcast to each of the RS-232/RS-422 user ports. The addressed remote device(s) will then respond back to the Host Device.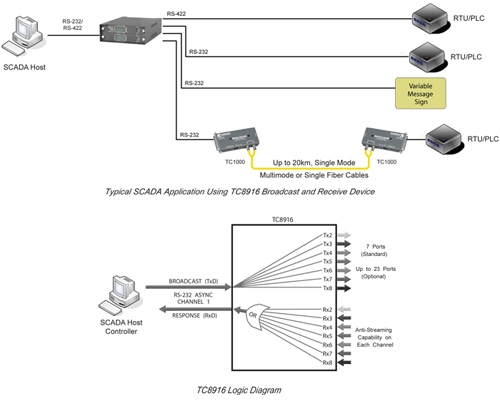 Specifications
Data Rates
Asyncup to 120 Kbps (RS-232), up to 500 Kbps (RS-422)
Channel Capacity
Standard8 (1 Host + 7 Devices)
Optional16 (1 Host + 15 Devices)
Optional24 (1 Host + 23 Devices)
Electrical
ConnectorRJ11 Female
Interface(DCE) RS-232 or RS-422
System
Bit Error Rate1 in 10

9

or better
Visual Indicators
System StatusAlarm, Power A, Power B, Vcc, Timer-1, Timer-2
Channel StatusHost BRD, Host RSP, BRD & RSP (for each channel)
Power
Standard12VDC @250mA
Optional24VDC, -48VDC or 115/230VAC w/ External Power Cube
Temperature
Operating-10°C to 50°C
Hi-Temp (optional)-20°C to 70°C
Hardened (optional)-40°C to 80°C
Storage-40°C to 90°C
Humidity95% non-condensing
Physical (4-Channel Standalone)
Height(3.53 cm) 1.39"
Width(18.13 cm) 7.14"
Depth(24.89 cm) 9.80"
Weight(887 gm) 1.96 lb
Ordering
For More Information