TC8916
Broadcast & Receive Device (8-24 Port: RS232/RS-422)
Features
The TC8916 Broadcast & Receive device is used in SCADA or poll-response networks with a Star topology to link up to 23 ports from a SCADA Host to RTUs.
Designed specifically for SCADA and process control applications with a Star topology, the TC8916 Broadcast & Receive Device broadcasts & receives information from remote devices. Transparent to all data sent in either direction, it is typically used to link SCADA Hosts to remote terminal units (RTUs) or programmable logic devices (PLCs) via fiber optic or metallic cable.
Supports Polled/Response SCADA Networks
RS-232 or RS-422
Up to 24 Channels; Can be Cascaded
Anti-Streaming Capability on Each Channel
Hardened Temperature version exceeds NEMA & CALTRANS specs
LED Indicators for Each Channel's Tx & Rx Status
Stand Alone or Rackmount
Applications
The TC8916 is often used in SCADA applications with a Star topology to link a SCADA Host to RTUs. The TC8916's RS-232/RS- 422 user ports can be extended with the use of a fiber modem or multiplexer. When the Host Polling Device sends information to the TC8916 via the RS-232/RS-422 Host Port, it will broadcast to each of the RS-232/RS-422 user ports. The addressed remote device(s) will then respond back to the Host Device.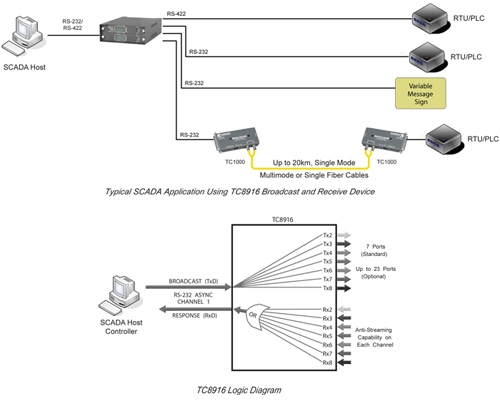 Specifications
Data Rates
Asyncup to 120 Kbps (RS-232), up to 500 Kbps (RS-422)
Channel Capacity
Standard8 (1 Host + 7 Devices)
Optional16 (1 Host + 15 Devices)
Optional24 (1 Host + 23 Devices)
Electrical
ConnectorRJ11 Female
Interface(DCE) RS-232 or RS-422
System
Bit Error Rate1 in 10

9

or better
Visual Indicators
System StatusAlarm, Power A, Power B, Vcc, Timer-1, Timer-2
Channel StatusHost BRD, Host RSP, BRD & RSP (for each channel)
Power
Standard12VDC @250mA
Optional24VDC, -48VDC or 115/230VAC w/ External Power Cube
Temperature
Operating-10°C to 50°C
Hi-Temp (optional)-20°C to 70°C
Hardened (optional)-40°C to 80°C
Storage-40°C to 90°C
Humidity95% non-condensing
Physical (4-Channel Standalone)
Height(3.53 cm) 1.39"
Width(18.13 cm) 7.14"
Depth(24.89 cm) 9.80"
Weight(887 gm) 1.96 lb
Product version may differ from current manual. For assistance or proper manual version please contact Technical Support.