TC8927
6+2 Channel Paging System with Dry Contact
Features
For bridging/broadcasting analog audio and dry contact from a central location to remote sites. The TC8927 is an 6+2 channel 600 ohm 4-wire analog paging system with dry contact designed to be simple yet robust.
Incoming analog/dry contact signal coming into the primary host port will be broadcast to 6 slave ports. A backup host port is available for redundancy. The dry contact channel is typically used to actuate the end equipment to broadcast the audio. When both Primary and Backup host ports receive signal, Primary will take precedence.
8 CH 600 Ohm 4-wire Analog Paging System & Dry Contact
2 Channel Inputs as Host Ports 6 Channel Outputs as Slave Ports
Modular Design with 8 Channels per Module
64K Full Bandwidth Voice Transport
Passes All Tones for FSK, EIA Tone Control/Remote and Paging
Supports Pilot/Guard Tone Operation
Optional Power Redundancy
1U or 4U Rack Mount or 1S Standalone Chassis
12VDC, 24VDC, -48VDC, 125VDC
LEDs for Analog Volume, Alarm Status, Channel Release Tone, and Loopback
Applications
The TC8927 bridges/broadcasts analog audio and dry contact from a central location to remote sites.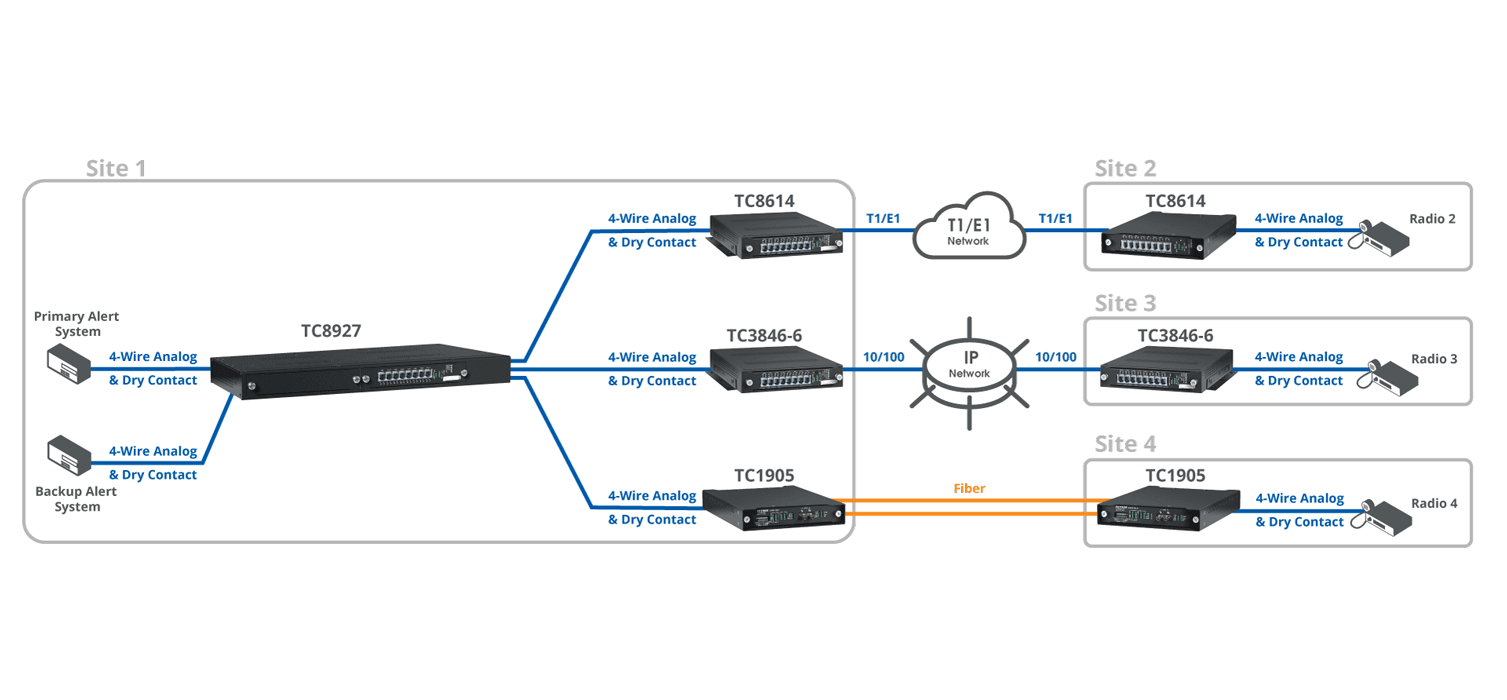 Specifications
Connection Capacity (per interface card)
600 Ohm (4-wire)
Host2 Ports
Slave6 Ports
Dry Contact
DCD (Host)2 Ports
DCC (Slave)6 Ports
Electrical
Dry Contact Interface
Normal openstandard
Normal closeoptional
Load Voltage (peak AC)60V
Load Voltage (DC)60V
Continuous load current0.55A
Peak load current1.2A
Max On Resistance2.5 Ω
Output Capacitance150pF
600Ω analog interface
Impedance600Ω
Max Input3Vp-p
Frequency band300 to 3400Hz
Visual Indicators
Channel StatusTX/RX
SystemPWR A, PWR B, Vcc, ALM
PagingP#, R-Tone
Alarm
Dry ContactNormal Open/Closed
Power
Standard12VDC @500mA MAX
Optional24VDC, -48VDC, 125VDC, or 100-240VAC
Temperature
Operating-10°C to 50°C
Hi-Temp (optional)-20°C to 70°C
Extreme (optional)-40°C to 80°C
Storage-40°C to 90°C
Humidity95% non-condensing
Physical (1U Rackmount)
Height(4.3cm) 1.7"
Width(48.3cm) 19"
Depth(26.7cm) 10.5"
Product version may differ from current manual. For assistance or proper manual version please contact Technical Support.