TC3PS-TB-25
12 Volt Power Adapter with 2 or 3 Pin Terminal Block
Features
The Universal Power Adapter is compatible with standard and large TC Communications products.
The TC3PS-TB-25 Universal Power Adapter draws 2.5 Amps and is compatible with standard and large TC Communications products. It is a 115/240V AC to 12V DC Power Adapter with a 2- or 3-Pin Terminal Block connector.
AC Input 100-240 VAC, 47-63Hz
DC Output 12V, 2.5A, 30W Max
Non-Vented Case
Class B EMI
Low Profile Design
Level VI Efficiency Compliant
Eco-design ErP Directive 2009/125/EC Level 2 Annex 1b Compliant
Applications
This power supply applies to the following products:
TC8930
TC8916
TC8800S/R
TC861X
TC8530
TC8520
TC8510
TC8300
TC8116
TC8108
TC8000
TC4001
TC3848
TC3847
TC3846
TC3845
TC3840DR
TC3847-1DR
TC3400/3420
TC3340
TC3300
TC3240
TC3210
TC302X
TC3007/3006
TC3005/3004
TC2900
TC2850
TC2800
TC2400
TC2200
TC2100
TC1920
TC1905
TC1903
TC1901
TC1900
TC1631
TC1720
TC1710
TC1705
TC1680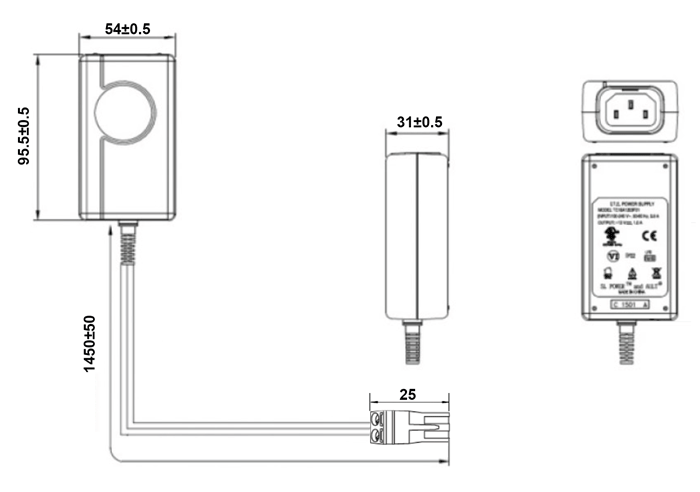 Specifications
Mechanical Characteristics
Length103.4mm (4.07in)
Width42mm (1.65in)
Height28.7mm (1.13in)
Weight140g (4.94oz.)
DC Output ConnectorTerminal Block
DC Cord Length1500mm (59.1in)
AC Output ConnectorIEC C14
AC Cord Length1828.8mm (72in)
Input
AC Input
Voltage Rating100VAC to 240VAC
Voltage Range90VAC to 264VAC
Frequency47Hz to 63Hz
Input Current
0.8A (RMS) maximum at 120VAC
0.5A (RMS) maximum at 240VAC
Leakage Current3.5mA maximum at 254VAC, 50Hz
Inrush Current
60A max @ 100VAC & max load
100A max @ 240VAC & max load
(Cold start at ambient 25°C)
Power Saving<0.1W Max @ 0A 23VAC 50Hz
Output
DC Output Voltage+12V
DC Output Power30W
Load
Minimum0A
Maximum2.50A
Ripple
120mV
Efficiency
LevelDOE Levl VI
>88% Typical
Over-Voltage Protection 10Vmax
Over-Current ProtectionAuto restart mode without damage
Short-Circuit ProtectionOutput can be shorted permanently without damage
Environmental
Operating Temperature-20° to 70°C
Storage Temperature-20° to 75°C
Operating Humidity20% to 90%
Immunity
EN61000-4-2level 4
EN61000-4-3level 2
EN61000-4-4level 2
EN61000-4-5level 3
EN61000-4-6level 2
EN61000-4-8level 1
EN61000-4-11
EmissionsFCC Class B, EN55022 Class B
Dielectric Withstand (Hi-pot) Test
Input to output:3000VAC, 10mA for 1 minute
Input to F.G.:1500VAC, 10mA for 1 minute
Safety Approvals
cUL/UL, CB, CE
For assistance with this product or to request a user manual please contact Technical Support.