TCSD11-1/2
JumboSwitch 1S/2S Standalone/Wallmount Chassis
Features
The JumboSwitch 1S & 2S standalone/wallmount chassis are designed to hold JumboSwitch family cards. The 1S chassis holds one interface card. The 2S chassis holds one Main/Management card and one interface card.
Both chassis come standard with dual load-sharing 12VDC power supplies. Here are the options:
12VDC (standard)
24VDC and -48VDC (optional)
115VAC, 230VAC and 240VAC (via External AC Power Adapter)
The dual load-sharing power supplies feature automatically switch over in the event of a power failure. Through the TC3840 Main/Management card, the power supply on the 2S can be remotely managed via Web, SNMP, Serial Console or Telnet. Power supply cycling and monitoring ON/OFF status can be done remotely.
Standard temperature range is -20°C to +70°C and the extreme temperature option is -40°C to +80°C.
Ruggedized design for Harsh Environments
Designed to Hold JumboSwitch Family of Cards
Extreme Temperature (-40°C to +80°C) Optional
Power Supply Managed via Web, SNMP, Serial Console or Telnet (2S Only)
Various AC & DC Power Ranges
Built-In Power Redundancy
Member of the JumboSwitch® Product Family
Applications
Sturdy and durable, the 1S/2S standalone/wallmount chassis house various combinations of JumboSwitch family cards.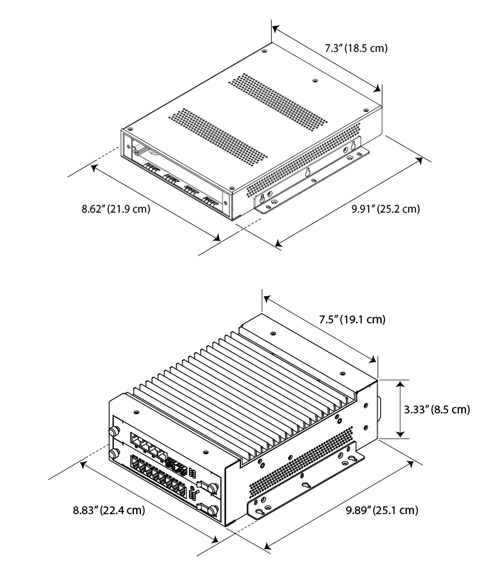 Specifications
1S Chassis
Width: 8.62" (21.9 cm)
Height: 1.58" (4.0 cm)
Depth: 9.91" (25.2 cm)
2S Chassis
Width: 8.83" (22.4 cm)
Height: 3.33" (8.5 cm)
Depth: 9.89" (25.1 cm)
For assistance with this product or to request a user manual please contact Technical Support.