TC3840DR
JumboSwitch-DR DIN Rail Ethernet Switch
Features
This industrial Ethernet switch is a small form factor and efficient Industrial Ethernet solution with integrated serial server or Ethernet card expandibility.
Compact Chassis with Full Management
Base Unit with 2 x GigE SFP* Ports + 6 x 10/100Base-T
Optional Expansion Card with 6 10/100Base-T, 6 100FX or 4 Serial Channels
Ethernet Rate Limiting, VLAN, QoS
Temperature, Power Consumption & SFP Monitoring
Industrial Hardened & IEC 61850-3, IEEE 1613 & NEMA TS-2 Compliant
Supports MicroLok® Railroad Applications*
Member of JumboSwitch Product Family
*MicroLok® is a trademark for ANSALDO STS USA, INC.
The JumboSwitch-DR DIN Rail Ethernet Switch is a compact, efficient Industrial Ethernet switch solution with full JumboSwitch network compatibility and integrated Serial Server or Ethernet card expandability. It is compatible with all JumboSwitch product family chassis, management software, features and options, and guarantees maximum reliability and performance for industrial automation and mission critical redundant ring network applications.
Applications
An all-in-one connectivity solution for industrial automation and commercial network applications, the JumboSwitch-DR DIN Rail Ethernet Switch benefits users by offering an additional built-in 4-channel Serial Server or 6-port Ethernet card.
Transportation entities use the TC3840DR for traffic control and intelligent transportation system communication networks.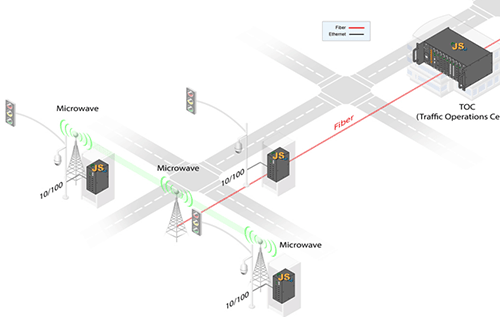 The TC3840DR's serial card is also used to support MicroLok®* devices over IP networks in railroad Positive Train Control (PTC) applications.
*MicroLok® is a trademark for ANSALDO STS USA, INC
The TC3840DR is often used by Utilities to connect substation RTUs/PLCs, including older legacy units with serial interfaces, to a central control center.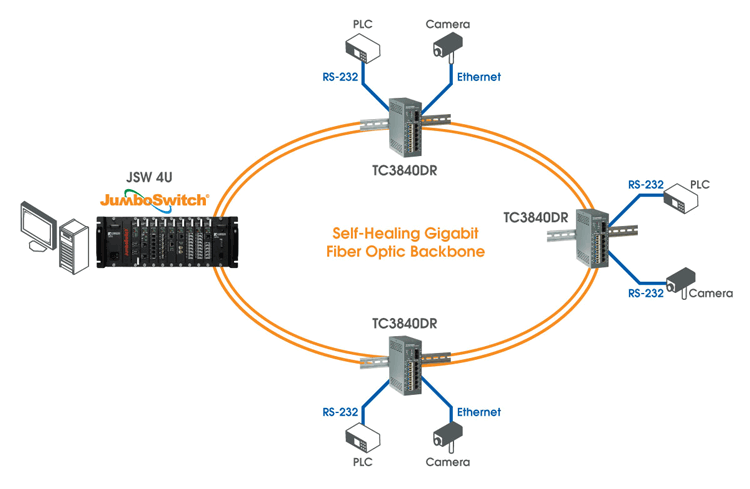 Specifications
Data Rates
RJ4510/100 Mbps
SFP1000 Mbps
Connection Capacity
Base (Ethernet)
RJ456 Ports
SFP2 Ports
Expansion (Ethernet)
TC3841-2DR6x10/100Base-T
TC3842-3DR6x100FX (SFP)
Expansion (Serial-RS232/422/485)
TC3847-1DR8 Ports (RJ11)
(NOTE: Supports maximum of 4 channels of RS232 or RS422 or RS485 or Mix)
Optical
TransmitterLASER
ReceiverPIN Diode
Wavelength (SFP) 850/1300nm MM and 1300/1550 SM
SM SFP ConnectorsLC
Loss Budgets - 1300/1550nm
Multimode @62.5/125µm15dB
Single Mode @9/125µm20dB
(NOTE: Contact factory for higher requirements)
LEDs
PWR A, PWR B, Vcc, DFLT, ALM, SHR, MSTRYes
(NOTE: Different Expansion may have different LEDs)
System
Bit Error Rate1 in 10

10

or Better
Alarm
Dry ContactNO or NC (selectable)
Diagnostic Functions
Traffic StatisticsYes
Launch PowerYes
TemperatureYes
Power
Standard12VDC
Optional24VDC, -48VDC or 115/230VAC (w/ external cube)
Operating Temperature
Standard Temp -20°C to 70°C
Extreme Temp (optional)-40°C to 80°C
Storage
Storage-40°C to 90°C
Humidity95% non-condensing
Physical (Standalone Unit)
Height(16.26 cm) 6.4"
Width(5.84 cm) 2.3"
Depth(13.21 cm) 5.2"
Weight(544 gm) 1.2 lbs
Expansion Ordering Information
TC3841-2DR6 x 10/100Base-T
TC3842-3DR6 x SFP 100FX
TC3847-1DR4 x RS232/422/485
*SFP Transceiver not included
Note - Information contained in this datasheet is subject to change without prior notice.
For assistance with this product or to request a user manual please contact Technical Support.