2000 - Sudbury Hydro in Canada Uses Multi-Drop Modems 100 km Apart
Multi-Drop Modems for Utility's AMR and Distribution Automation Networks
Spurred by deregulation of the telecommunications industry and pending deregulation of the electrical industry, Sudbury Hydro in Ontario, Canada, made plans in 1996 to build a fiber optic communications infrastructure. The goal was twofold: support the utility's distribution automation program and offer high speed data communications services to local customers.
Today, this goal has been met by implementing three different types of fiber optic networks:
Distribution Automation Self-Healing Ring Network (DAN)
Sub-Network Rings (SNR)
Broadband Wide Area Network
Background
According to Louie Mastronardi, Sudbury Hydro's Protection and Control Engineer, the original plan envisioned creating a broadband wide area network (primarily for external customer use) and a low speed distribution automation self-healing ring network (strictly for internal use).
Later, plans were made for adding sub-network rings onto the low speed distribution automation network in order to link Sudbury Hydro substations to large customers for Automated Meter Reading (AMR) of its power billing meters.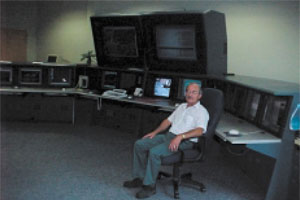 Louie Mastronardi, Protection and Control Engineer, is shown in the Central Control Room responsible for Sudbury Hydro's fiber optic communications network.
"The original plan also called for keeping the distribution automation self-healing network separate from the broadband wide area network," said Mastronardi. "The main reason for this was (and is) the lack of utility automation equipment on the market having integral IP addressable Ethernet ports. Separate networks would also allow each network to grow and evolve independently.
Sudbury Hydro's Distribution Automation Self-Healing Ring Network has grown into a city wide 100km long self-healing (counter rotating) fiber optic ring. It interconnects the Sudbury Hydro main office with all of its 22 substations, 2 Ontario Hydro transformer stations and a downtown district energy co-generation plant.
Installation of Sub-Network Rings (SNR) branching off of the distribution network for AMR began in early 2000. The first of these were successfully put on line in early spring of 2000.
The broadband wide area network consists of a meshed fiber optic Asynchronous Transfer Mode (ATM) backbone with ATM and Ethernet switches at several of the "substation CO's." Other substation CO's have Ethernet switches only. Sudbury Hydro sells high bandwidth connections and network services to almost every government and institutional facility within the city. It continues to expand into the surrounding region. It also has a fairly large commercial customer base for telecommunications services.
Distribution Automation Network (DAN)
The Distribution Automation Network is a Self-Healing Ring topology over a distance of about 100 kilometers. Its key components (See Figure 1) are multi-drop multiplexers from TC Communications in Irvine, California. It uses a TC Communications TC2800 master multi-drop multiplexer at the main office and companion TC2801 slave multi-drop multiplexers at each of the other sites.
The DAN presently has four async. 38.4 kbps data channels available. To speed up the SCADA polling process, which runs at 9600 bps, the master station at the main office communicates simultaneously with one half of the Remote Terminal Units (RTUs) on channel 1, the other half on channel 2.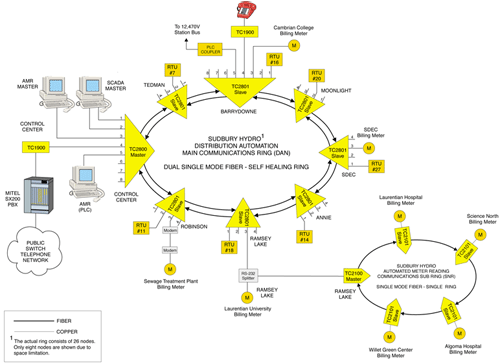 The DAN uses channel 3 for an Automated Meter Reading (AMR) system capable of reading meters manufactured by multiple vendors, again at 9600 bps. This system is an "all fiber" approach that connects the AMR master station at the main office right through to a customer's on-site power billing meter.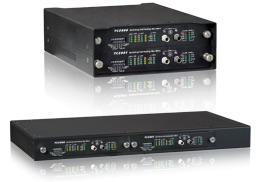 TC2800 4/8/12-Channel Multi-Drop Fiber Optic Multiplexer
Channel 4 is currently being used for trials with another type of AMR system. This system also uses fiber optics between the main office and the electrical substation; however, a unique method of power line carrier communications is used between the electrical substation and a customer's on-site power billing meter.
Monitoring the integrity of the DAN is done entirely through the SCADA system, according to Mastronardi.
"Separate network management software is not required," he explained. "A dry alarm contact on the TC2800 master unit indicates when self-healing has occurred "somewhere" on the ring." Dry alarm contacts from the two TC2801 slave units on either side of the fiber cable break effectively pin point the location of the break.
Sudbury Hydro also purchased one spare TC2800 master and one spare TC2801 slave for maintenance use. To date, however, it has not had even one component failure.
Sub-Network Rings For AMR (SNR)
Many of Sudbury Hydro's telecommunications customers are also some of its largest electrical customers. Since these customer's premises are already connected to Sudbury Hydro's broadband wide area network with fiber optic cable, the potential was there to use spare fiber strands to incorporate AMR of power billing meters.
In 1999, after Sudbury had successfully linked its Control Center to 24 lectrical substations around the city via the Distribution Automation Network, it began plans to add on sub-network rings (SNR)to key customers for Automated Meter Reading (AMR). Although it clearly defined its requirements, the search to find equipment that would satisfy these requirements became cloudy, according to Louie.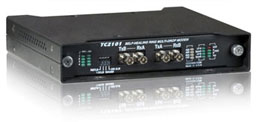 TC2100 2-Channel Multi-Drop Fiber Optic Modem
"We knew how we wanted to develop the AMR portion of our network, but quickly ran into problems trying to find suitable equipment," explained Louie. "There is an overall lack of modern utility automation equipment on the market."
Implementing automated meter reading AMR systems with fiber optics can be a plug and play experience….if the "right" equipment is used. Sudbury found and installed the right equipment…but only after lengthy experimentation with a variety of vendor AMR-related products.
For the SNR, Sudbury Hydro chose to go with a slower speed broadcast S-232/RS-485 approach, more compatible with most of the AMR hardware and software presently available (See Figure 1). Given the scarcity of meters with Ethernet capability, a higher speed approach that would have included installing a mini server with serial ports at each meter location was ruled out.
Ring Topology
In order to minimize the fiber requirements from available spare strands, Sudbury Hydro opted for a Ring topology connected to substation nodes on the Distribution Automation Self-Healing Ring Network. The sub-network rings are configured in ring topologies that connect to power billing meters located at customer sites in the vicinity of each electrical substation.
The SNRs do not have to be as secure as the Distribution Automation Network, thus, it was not necessary to install self-healing rings. To again minimize the amount of fiber required, and to reduce equipment costs, Sudbury Hydro chose to go with single fiber (non self-healing) Sub-Network Rings. The next step was to find suitable multi-drop fiber optic modems with drop and repeat capability and also to find suitable meters.
In early 2000, and after considerable research into the fiber optic multi-drop modem market and trial and error with different products, Sudbury Hydro began installing the single mode optics version of the TC Communications Model TC2100 Multi-Drop Fiber Optic Modem.
The TC2100 series of dual channel multi-drop modems have all the same features as its TC2800 Multiplexer series counterpart. Dry alarm contacts on the TC2100 master units at the substation monitor integrity of the SNRs via SCADA system.
The TC2100s that make up the SNRs are performing well, according to Mastronardi.
"We installed the first TC2100 sub-ring in April, 2000 and it has performed extremely well ever since. Additional sub-rings are now being installed out of other substations to connect to customer meters in other parts of the city."
The sub-network rings are comprised of TC2100 Multi-Drop Fiber Modems that connect to power billing meters located at customer sites in the vicinity of each electrical substation. The system automatically reads each meter once a day.
Critical Modem Feature
One important feature on TC Communications multi-drop modems and multiplexers is that the data transmitted into the master's RS-232 port travels around the ring….but is not received back at the master's RS-232 port.
This feature is absolutely critical because it eliminates the "echo" which confuses the AMR master station software if it were to receive back the reading requests that it sends out. Most other vendors of drop and repeat modems do not have this feature to eliminate "echo."
Finding suitable power billing meters for this system has been a bit of a problem. As mentioned earlier, this AMR system works on a broadcast polling basis, similar to the SCADA system. Areading request, with specific address, is broadcast to all meters on the network. Only that meter with the matching address can reply to the reading request.
At first, Sudbury Hydro could find only higher priced meters that were equipped with addressable RS-232 ports. Now, other more reasonably priced meters are available with addressable RS-232 and RS-485 ports.
In addition, Sudbury Hydro found that there was generally a lack of expertise using multi-vendor AMR software in the direct read mode. The software was originally written to interrogate meters using telephone modems and it took some trial and error to get the direct read mode set up properly.
Overall, Sudbury Hydro is quite pleased with the performance of this AMR system, Mastronardi noted. "It has programmed the system to automatically read each meter once a day and the system has performed virtually flawlessly. Communications errors have been nil."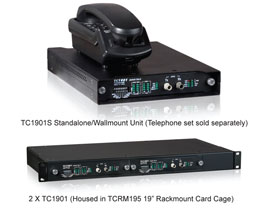 TC1900 RS-232 or Fiber Telephone Extender
Ongoing and Future Improvements
According to Mastronardi, ongoing and future improvements will include the addition of voice communications over one of the main ring data channels, remote control of its motorized 44kV subtransmission line pole top switches and more sub-rings to connect substation nodes to SCADA RTUs at pole top high voltage switch locations.
"Adding voice communications between the system control room and the outlying substations benefits technicians during routine maintenance, installation and troubleshooting," Mastronardi said. "While doing commissioning, testing and maintenance work at the substations, a lot of verbal dialogue takes place between the system operators and the field staff."
Sudbury Hydro normally uses a utility-wide voice radio network for this work. However, there have been concerns, raised by other work groups who share the same radio network, that the radio network is often overloaded by the amount of voice traffic during this type of work.
"Quick Talk" Telephone Extender
Sudbury Hydro recently installed the TC Communications TC1900 "Quick Talk" as a solution to this problem. The "Quick-Talk" Voice Adapter turns a fiber optic network or RS-232 circuit into a voice network simply by plugging a telephone set into an RJ-11 connector. It is compatible with most PBXs or Key Systems.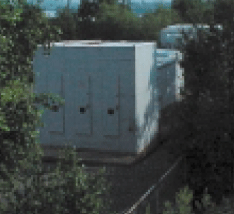 Sudbury Hydro's Distribution Automation Self-Healing Ring Network interconnects the Sudbury Hydro main office with all of its 22 substations.
According to Louie, setting up "Quick Talk" required upgrading the Control Center node and the Barrydowne node to 8 channels. The AMR (PLC) master at the control center and the PLC coupler at Barrydowne have been moved to channel 5.
"Quick Talk" allows Sudbury Hydro to extend a main office telephone extension to all of its substations. Field staff working at any substation will then be able to telephone the system operator, anyone else in the main office and even be able to access an outside line.
"We have connected our control center PBX, extension 300, to channel 4 of the TC2800 via a TC1900," Louie said. "We can now take a telephone and another TC1900 to any other node on the DAN and simply plug in to channel 4 on a slave TC2801. We can, of course, dial 9 from any node to obtain an outside Bell line just like we do from the office. It works great!"