2012 - Iowa School District Slashes Network Costs with Innovative Modem-to-IP Gateway (TC3848-3/4)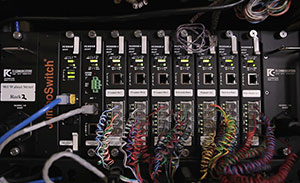 Serving more than 30,000 students in more than 60 schools, the Des Moines Public School (DMPS) district had two network issues that needed immediate attention:
First, it needed to reduce ongoing monthly costs for existing 1 flat business (1FB) analog lines connecting various fax machines, auto dialers and emergency elevator telephones from schools throughout the district back to its central computer center.
Second, it needed an analog connection to its paging system. During a recent building renovation, DMPS installed VoIP phones and needed a way for school personnel to access the paging system from building phones. Because VoIP is designed for voice it doesn't support 1FB dial-up connections.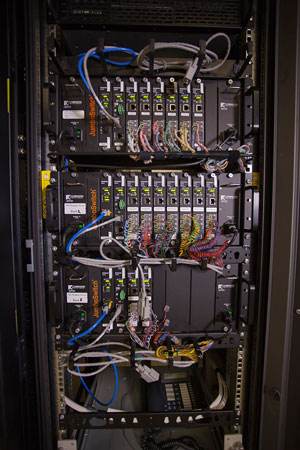 The DMPS was able to eliminate the costly 2-wire 1FB analog lines with a JumboSwitch Modem-to-IP Gateway from TC Communications. Each TC3848-3/4 MoIP Gateway interface card provided four FXS/FXO ports that enabled DMPS to connect directly to its campus Ethernet network (see network diagram).
Cost savings and improved paging system, emergency phone and alarm access were immediate according to Doug Mundil," DMPS Telecommunications Specialist (Manager). "Replacing 1FB lines with the MoIP Gateway will result in a positive ROI in less than two years," said Doug.
According to Doug, the TC3848-3/4 MoIP Gateway "has been a valuable cost saving and life safety product for our school district" and DMPS is planning to add more MoIP Gateways as it continues to remodel school buildings.