News and Product Updates
JumboSwitch Passes Teleprotection Relay Tests by Jamaica Power Company
04/01/2008
The Jamaica Public Service Service Company (JPS) Has Successfully complete initial testing of its new JumboSwitch ­ Teleprotection Relay network, according to Clive Wright, Manager, Electronic communications systems.
"Our communications guys were concerned about real time latency issues on IP networks," said Clive. "But after extensive testing, I am pleased to report that the round-trip delay is within tolerances specified for the JPS protective relays."
The JumboSwitch Turbo Serial interface card is designed for real time critical communication between protective relays with a maximum signal latency of less than 10ms (measured end to end inclusive of the relays). It is approximately four times faster than a standard serial-over-IP interface Card.
The Teleprotection Relay Network is only part of the JumboSwitch fiber optic backbone network that JPS will eventually install. Testing and related trials for the SCADA, T1-over-Ethernet (legacy T1 multiplexers) and Ethernet (administration, etc.) portions are still in progress or planning stages.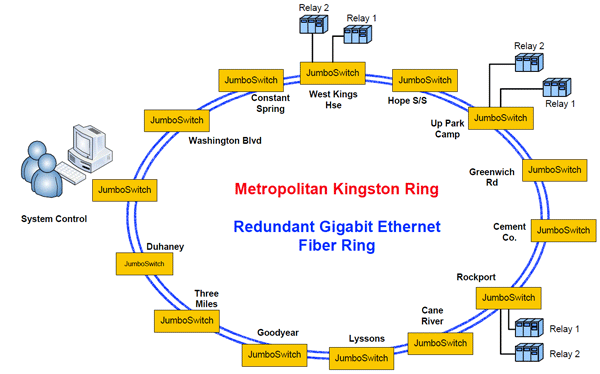 When finally installed, the JumboSwitch will transport Ethernet, Data and TC over two existing fiber optic redundant ring networks, one for the City of Kingston and one for the entire country of Jamaica. The JumboSwitch Multi-Service Access Platform integrates up to seven hot-swappable, copper/fiber Ethernet, Voice & Data interface cards onto a Gigabit Ethernet fiber optic backbone.
The Jamaica Public Service Company Limited (JPS) is an integrated electric utility company and the sole distributor of electricity on the island of Jamaica. It generates, transmits and distributes electricity. It also purchases power from a number of independent power producers.
JPS owns and operates 28 generating units, 54 substations, and approximately 14,00 kilometers of transmissions and distribution lines. It has a workforce of about 1,600 team members provides service to approximately 570,000 customers.