News and Product Updates
Technical Article on What Makes JumboSwitch Different
10/01/2008
Differentiating the technical and marketing aspects of today's Industrial Ethernet Switches can be confusing. Simply put, all Industrial Switches are not alike. As a result, users must compare each Switches' features and capabilities with the specific needs of a given application, both from immediate and future viewpoints.
The JumboSwitch® Industrial Gigabit Ethernet Modular Switch offers all popular features and capabilities of standard Industrial Switches, but differs in that it also functions as a modular Gigabit Ethernet fiber backbone and access switch (Often called Multi-Service Platform or IP Mux in the telecommunications market).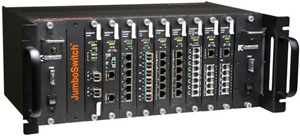 It is particularly well-suited for SCADA and Control networks and is currently the only Industrial Switch that provides hot-swappable universal interface card slots for modular interfaces to convert Voice, T1/E1 or Primary ISDN circuits, and serial data, with IP PBX, near Stratum II clock precision and demanding tele-protection speeds.
Specifically, the JumboSwitch features three of its interface cards, VoIP+, TDM over IP/Ethernet and a high speed serial card for tele-protection, that are "industry firsts" for Industrial Grade Switches. As evidence of this "industry first" claim, following are technical highlights of these three cards that separate the JumboSwitch from regular Industrial Switches:
VoIP+: Designed to operate in rigorous industrial environments, the VoIP+ interface card is a self-contained VoIP solution. It functions as a basic IP PBX completely by itself, without the need of a SIP Server or Call Manager, and is guaranteed to survive harsh conditions and wide temperature swings, (-40º C to +80º C).

TDM over IP/Ethernet:To help alleviate latency and clock recovery concerns, this interface card is designed with near Stratum II timing source for clock recoveries. Most important, it is capable of transmitting and receiving T1, E1 or ISDN primary signals at zero bit-error or frame slips consecutively.

Turbo Serial: Specially designed to meet stringent real time requirements for protective relay communications in the power utility industry, this Turbo Serial interface card can perform at less than 3ms latency, end-to-end, through an Ethernet network. This extremely low latency is irrespective of the protocol used, mirror bit or otherwise, and is unaffected by the number of nodes in between. In short, it's the fastest serial-over-IP solution for tele-protection currently available in the industrial marketplace today.

With the fast convergence of data, voice and video, TDM systems are no longer capable of handling the broadband needs of today's communication networks. As a result, next generation Industrial Switches like the JumboSwitch, with IP-backbone capabilities that include scalability, flexibility and, connectivity, are replacing SONET or SDH systems. Modern Industrial Switches will continue to provide a natural and graceful migration path, along with the development of Ethernet standards, to future-proof any communication network.