News and Product Updates
Spring 2011 JumboSwitch Newsletter
01/25/2011
JumboSwitch Now Offers 12 Different Interface Cards to Integrate Ethernet, TDM & Voice on One Rugged GigE Platform
You can now choose from 12 different JumboSwitch interface cards. The new IEEE C37.94 IP Gateway for Teleprotection Relays in Power Utilities is the latest addition to the continually growing number of available Ethernet, Voice & Data interface cards.
Interface Card options include:
Ethernet (copper & SFP)
RS232/485/422
FXO/FXS (VoIP Virtual PBX)
T1/E1 & T3/E3
Hi-Speed Serial Server (Teleprotection)
G.703/64K
Analog & Dry Contact
IEEE C37.94
Ethernet-over-PDH (T1/E1 & T3/E3)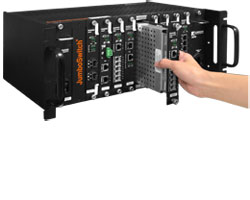 New Interface Cards: C37.94 & Ethernet-over-PDH

Two new interface cards have recently been added to the umboSwitch product family. The IEEE C37.94 card extends fiber optic circuits for Teleprotection Relays in Power utilities and the new Ethernet-over-PDH card connects remote LANs and nodes via existing T1/E1 & T3/E3 circuits.
TCView™ Network Management System Gets High Reviews from Utility Network Team

After recently completing a 4-day JumboSwitch training session, a 3-person team from Northwest Iowa Power Cooperative (NIPCO) said that the TCView Network Management System (NMS) "exceeded their expectations" in terms of ease of use and functionality.
"TCView has the ability to manage the network connections and provisioning with reporting available and was definitely designed and developed with the end user in mind," said Keith Schiltz, NIPCO's MDT Services Manager. "With features such as 'Unit Discovery,' we will be able to build the system network in a snap."
5 Reasons Why Network Managers Prefer JumboSwitch
Ethernet, Voice & Data on 1 Gigabit Ethernet Platform
Superior Network Management System
Reliable, Low Cost Alternative or Sub-Network to SONET/SDH
Low Latency & Hitless Switching for Teleprotection
Hot-Swappable, Self-Configuring Interface Cards
Get Your Free JumboSwitch Tote Bag

Visit the TC Booth to pick up your free JumboSwitch Tote Bag (while supplies last).
Modern network applications often require more than just Ethernet. Because the JumboSwitch integrates Ethernet, Data & Voice on one hardened GigE platform, it is effective for a wide variety of SCADA & Power Utility applications. Below is a sampling of recent case studies. Please visit the Literature page on
www.JumboSwitch.com
for all case studies (
http://www.jumboswitch.com/Smart-Grid-Literature/
).
Iowa Utility Chooses JumboSwitch for NMS & TDM-over-IP Capabilities
In addition to wanting to implement a high performance Network Management System (NMS), Northwest Iowa Power Cooperative (NIPCO) selected the JumboSwitch to enhance Ethernet & T1 services throughout its 600-mile Ethernet self-healing ring fiber optic network. NIPCO's future plans include adding serial data, telephone and Ethernet over T3 to its JumboSwitch network.
JumboSwitch Adds VoIP & Management Jungle Ethernet Network
Although traditional Ethernet Switches would have sufficed, a Power Turbine Company chose JumboSwitch for a rugged self-healing ring communications network in a Central America jungle environment. The JumboSwitch provided additional VoIP & network management functions to its 18-node network that connects PLDs and Controllers for generators, turbines, compressors & auxiliary communications.
Power Utility Uses "One-Box" IP Solution for Video, Phones & Data
A Power Utility in South America wanted a "one-box" Ethernet solution to link three hydroelectric dams. To link IP cameras, RS232 Remote Terminal Units (RTUs) and 2-wire analog telephones, the Power Utility installed three "4U" JumboSwitch units, one at each dam site.