2010 - Los Angeles, CA's Metrolink Upgrades Network with the JumboSwitch
Southern California Regional Rail Authority (Metrolink) upgraded their communications network with the JumboSwitch product (TC3840). Aside from Ethernet connectivity, it provides a "communications pipe" for their radio communications backhaul at the Control Points and potentially linking radio towers for their PTC network. Future connections may include telephone and T1 services.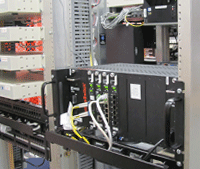 The JumboSwitch projected lowered their network build-out costs, training, certifications and maintenance. It also met Metrolink's environmental requirements that the switch would be ruugedized to +80ºC.
Because JumboSwitch is a multi-service Ethernet platform, it was able to connect remote Control Points to radio towers with its Analog/Dry Contact interface cards.
Metrolink's use of the Jumboswitch gives them the option to grow their communications architecture to support CTC.
Metrolink's network now features six communication shelters, each one consisting of a SONET node, MPLS connection T1, Router, and the JumboSwitch.