1997 - Ohio Utility Network is Aided with Fiber Optic Self Healing Ring
Multi-drop Fiber Modems Connect RTUs To SCADA Controller In City Fiber Network
Connecting various monitoring and status collecting devices in electrical substations to a central computer control site is a common—yet vital—application for many Utilities. Fiber is typically the medium of choice and multi-drop modems are quickly becoming the hardware transmission device of choice.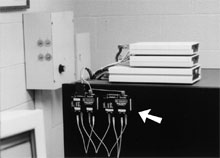 RTU Test Modems (top) and Fiber Optic master Modems (bottom)
The basic application involves establishing a communications link between the Remote Terminal Units (RTUs) at each substation and a CPU or SCADA controller at the computer center.
The computer center monitors a variety of vital data via the RTUs including levels of current, voltage and amps in the distribution system. The computer center also triggers various controls such as breaker switches.
Multi-drop fiber modems work well in SCADA and process control environments. They are reliable, error free and operate in a real time environment. Above all, they are flexible and support a variety of interfaces and topologies.
Several vendors offer multi-drop fiber modems, but, as the Electrical Division of the Utility Department for the City of Wadsworth, Ohio, found out, all are not equal.
Wadsworth had recently installed a fiber optic network and wanted to connect various RTUs at eight sites, including five electrical substations, to the SCADA controller in the main distribution center.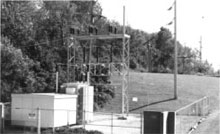 State Street Substation #3 City of Wadsworth Utility Dept.
A Planning "Task Force" at Wadsworth's Utility Department identified several requirements and appointed Network Engineer Larry Rusnak and Substation Supervisor Alvin Alexander to evaluate different connectivity schemes.
The Search
"One of the main reasons we installed the new fiber optic cable network was to enhance overall system reliability," explained Larry. "so we made self-healing ring capability our number one priority for this particular application."
The next step was to find a method that included self-healing ring capability and also supported the RS-232 electrical interfaces on the RTUs. This path soon led to searching for multi-drop fiber modems that would support these requirements.
Larry, however, soon found that such modems were a scarce commodity.
"During a 6 to 9 month period I contacted several fiber optic communication manufacturers," said Larry. "None seemed to fit our requirements. One company came close, but its equipment required the proprietary communications protocol from the RTU manufacturer, and they wouldn't release it."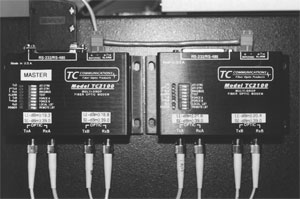 TC2100 Multi-Drop Modems are easy to install.
"Several vendors offered multi-drop modems and a couple even said they would support self-healing RS-485 topologies," added Larry, "but I remained a bit skeptical."
"The modems met our expectations," commented Larry. "They had the proper hooks and gave us the versatility we wanted. Most of all they gave us the self-healing ring that we felt was so important."
Hooks
One example of the "proper hooks" occurred after the modems were installed. The original design didn't include an alarm condition at the Master Unit in the event of a failure on the secondary fiber optic ring.
This alarm was operative on the primary ring but was initially considered unnecessary since the secondary ring was a spare; however, Larry recognized the value of the additional alarm. Status of the B ring was important to avoid potential problems and verify system integrity. He asked TC Communications about making the change.
EPROM
TC responded by redesigning the EPROM. Wadsworth technicians then installed the new EPROM and it had an alarm condition for the back-up fiber.
The presence of hooks is not an accident according to TC Communication's Chief Engineer Kai Liang. "We take extra effort on the R&D end to build flexibility in to our products," he said.
"That is why we used FPGA technology in all of our designs. Users frequently don't have—and often can't have—an entire picture of what should or should not be included in a product specification."
As time goes by the user learns what to add or take away from a product. TC's goal is build products that can allow certain changes to be made after installation.
"Often, these changes can be made to the EPROM. A customer can then open the cover of an installed product and plug in the new EPROM.
"The end result is a product that brings ultimate simplicity to the end user. In other words, it simplifies applications at the user end. The complexity stays where it belongs—at the factory."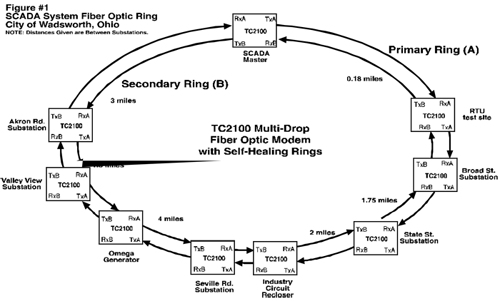 TC Communications' Multi-Drop Modems are specifically designed for interconnecting monitoring devices such as Remote Terminal Units. They enable an RTU to receive a polling request via a serial port, recognize its address and then respond back to the Master Unit.
Self-Healing Ring
The TC2100's self-healing ring scheme is sophisticated. It is particularly effective at detecting downstream equipment failures in addition to detecting ring breakage. Once a failure or break is detected, it automatically reroutes the data. Because it is programmed to transmit on both Ring A and Ring B at the same time, switch-over is nearly instantaneous. Anti-Streaming capability is offered to prevent one defective node from disabling the entire system.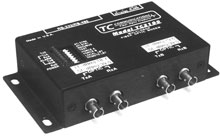 Model TC2100 Multidrop Fiber Optic Modems are Ideal for Connecting RTUs in a SCADA System.
The new fiber modems were a welcome replacement for Wadsworth's old RF modems that transmitted over a CATV network. Before the fiber network was installed, Wadsworth connected its RTUs by transmitting Radio Frequency signals over an existing CATV network.
"It was workable," commented Larry, "but errors were always a problem and it wasn't very reliable."
The fiber network and the Multi-drop modems also combine well to support future expansion. According to Larry, Wadsworth is planning on building another substation and he expects to expand existing communications links by simply pulling more fiber and installing additional modems.
Remote RTUs
He also is looking into installing remote RTUs at various unmanned locations. This will enable Wadsworth to continuously monitor each unmanned site and immediately respond to alarm conditions.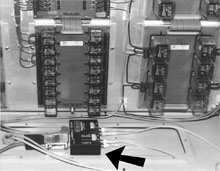 TC2100 Installed at Akron Road Substation #5.
Without leaving the computer center, they will be able to initialize hard copy print outs to verify and pinpoint irregularities or create data "benchmarks" for future reference. "This will enable us to access additional levels of testing and knowledge by a few simple keystrokes," commented Larry.
Wadsworth's fiber optic distribution network spans nearly 13 miles, 95% of it aerial, and connects several key city buildings in addition to the five electrical substations. The fiber optic cable itself consists of 36 strands of 8/125 micron single mode fiber.
This network also provides a communications link for both the local government and school system. Using the library as the common point, the school system currently uses the fiber network for a 100 Mbps TDM backbone. The connected entities are also planning to use the fiber optic cable network for a private telephone distribution system.
Configurations
Communications Engineers use several configurations to link RTUs to SCADA Controllers and CPUs. Configurations include Star, Bus, Ring and Self-Healing Ring.
The Star configuration, typically used in local applications, is reliable because it provides independent fiber optic cables to reach each RTU.
The Bus configuration is typically used for longer distances. It is vulnerable to power or optical failures since the signal cannot be repeated past the failure point. A single Ring configuration is efficient and economical; however, it is also vulnerable to failures.
The Self-Healing Ring, also called counter rotating ring, is the most reliable. TC Communications's connectivity devices optionally support a sophisticated Self-Healing Ring scheme that detect downstream failures and re-route signals during failure events.