Our Role in Power Utility
Communications
Connection is important. When utility networks need reliable telecommunications solutions, TC Communications is there to provide top-notch products. With a focus on preserving the strength and reliability of legacy networks, TC technology integrates traditional interfaces into one Ethernet/IP ready platform. Whether managing a heavy power grid or conducting remote management TC's telecommunications products will get the job done.
Specializations and Applications
Teleprotection with TDM over IP Technology
Experience low latency, dependability, and security within utility communication network design. Make sure the signals that manage power grid load and protect equipment are consistent using JumboSwitch technology. Legacy equipment that includes Ethernet, GigE fiber ports, Turbo Serial, VoIP+, virtual PBX are all compatible. Get the most out of legacy equipment that does not suffer from latency faults or failed signals when migrating to IP.
Applications:
Low-latency Serial Between Protective Relays
Isolating Substations From The IP Network Using Serial Over T1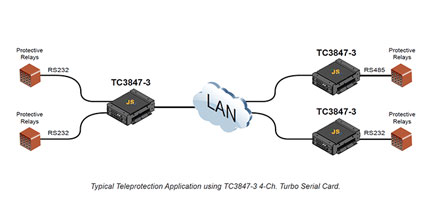 SCADA Applications
Supervisory control and data acquisition (SCADA) is essential to support real-time communications. Utilizing a modern IP platform the JumboSwitch offers a complete solution to monitor network applications and identify abnormal conditions. Since the beginning, TC has been testing and implementing SCADA technology for power utilities. Customers can trust that networks will be a cinch to monitor.
Applications:
Serial Server & Serial-To-Ethernet Conversions
Point To Point Multi-Interface Fiber Optic Multiplexer

Legacy Network Modernization
Expiring or expensive 4-wire Analog and T1 leased lines are nudging utility companies to consider alternatives. It's possible to use existing fiber and microwave IP/MPLS networks to connect Analog and T1/E1 equipment. TC products provide comprehensive support for existing legacy networks as well as gradual shifts to Ethernet/IP. Legacy devices and JumboSwitch products offer flexible connectivity options. This includes the latest in Ethernet-over-PDH technology including Ethernet over T1/E1, Ethernet over T3/E3 and Ethernet over OC-3/STM-1. More information about leased line replacement.
Applications:
Extending Ethernet LANs Over Existing T1/E1 Or PDH Networks
Preserve Legacy Devices While Utilizing Your IP Network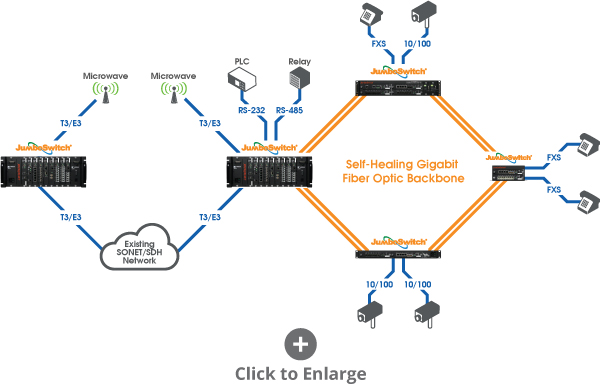 A History of Helping
Customers Succeed
Since the beginning, TC has focused on bridging legacy service with IP/Ethernet and enabling communication between devices. In the founding years TC worked alongside the Department of Water Resources. Together they brought fiber connectivity to SCADA applications. Since then plans have expanded to many critical utility applications including Teleprotection and substation communications.
Read about the roots of TC
NIPCO, an Iowa Power Cooperative, Uses GigE Switches
Updating key components and equipment for a multi-county utility network is no easy task. When a power cooperative from Iowa needed to do just that, they contacted TC. In less than two months NIPCO integrated a network that increased flexibility and reduced maintenance time.
Read more about the project
Tucson Power Successfully Deploys Teleprotection-over-IP Links
Tucson Electric Power Grid (TEP) was in a lengthy search to find equipment to suite their legacy integration needs. They required a TDM over IP/Ethernet solution with stringent latency requirements. Using TC Communications products TEP experienced latency readings well within their standards.
Read the full case study here
Texas-New Mexico Power Teleprotection over IP Concerns
A Texas-based utility service provider had concerns about using teleprotection over IP. Rounds of test were conducted that addressed past problems and future concerns. Doing so they were able to get a clear representation of equipment performance.
Watch the video about Texas-New Mexico Power's journey
"Our communications network has been operating very reliably since installation several years ago. We have been extremely pleased with TC Communications products and with their excellent customer support."


- Louie Mastronardi, Protection and Control Engineer at Greater Sudbury Hydro
"The [JumboSwitch] product has performed well and any minor issues or concerns have been handled by the technical staff at TC Communications in a very timely fashion… I would highly recommend their products and services."