Transporting teleprotection protective relays signals between substations is a critical application for power utilities. These signals help manage power grid load and protect power equipment from severe damage. The JumboSwitch® has proven to exceed teleprotection channel's main requirements: Low latency, dependability, reliability and security.
The JumboSwitch®, via the TCLateView SNMP Network Manager, monitors real-time latency on the communication network. It is also an economical solution for integrating Ethernet and legacy applications on one industrial hardened Multi-Service Ethernet Platform.
Teleprotection Over IP Improved with Carrier Ethernet 2.0
Combine TDM over IP/Ethernet capabilities with Carrier Ethernet 2.0 for a solid Teleprotection multi-service network.
Real-time Deterministic Transport
Sub-50ms Protection Switching (ERPS)
Supports IEEE 1588v2 PTP and SyncE Clock Synchronization

Teleprotection Products
C37.94 over IP Gateway

4-Ch. Turbo Serial-Over-IP

G.703 / 64K IP Gateway

Alternative to SONET/SDH
In the past, SONET and SDH communication systems were the only choices when it came to building mission critical automation and control systems. But, progress in the control, computing and communication technologies has made these TDM based communication systems basically obsolete. As a result, modern network designs are moving towards Ethernet/IP based communication backbones
Based on the most advanced Ethernet/IP, VoIP and TDM over IP/Ethernet technologies, the JumboSwitch product family offers an efficient, low cost alternative to SONET/SDH network solutions for many applications. Moreover, it promises straight-forward and simple scalability for all network topologies and sizes.
Compared to the complicated hierarchies of SONET or SDH based systems, the JumboSwitch drastically reduces operational expenses since it totally eliminates unnecessary hardware layers, thus significantly lowering the skill level required for installation, maintenance and troubleshooting.
Teleprotection-over-IP Concerns
Teleprotection channels are required to be fast, reliable, dependable and secure. As legacy infrastructure and substation devices migrate to Ethernet and IP networks, some of the industry's main concerns are meeting latency requirements and signal dependability.
Fast
Teleprotection operation times are required to be between 5 and 15msec to ensure high voltage system faults are cleared within 100msec. Typical processing delay on the JumboSwitch fiber network is 2-5msec end-to-end.

Click to enlarge
Monitor Latency in Real Time
Communication channel latency can be monitored real-time and traced historically.
Allow the protection engineer to calculate latency budget of protection schemes
Improve teleprotection performance
Use as a diagnostic tool when troubleshooting delays and isolating problems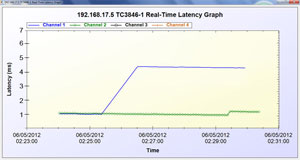 Click to enlarge
Case Studies:
Extend C37.94, G703/64k Interfaces over Ethernet/MPLS
Latency as low as 1.5 msec (optimized) & 3.0 msec (nominal)
Support Mirrored bits®
600Ω Analog-over-IP
Jamaica Public Service
Requirement
Jamaica Public Service Company Limited (JPS) needed a serial-over- IP technology to connect protective relays between substations over fiber. Being hit hard by hurricanes, it was crucial Jamaica have redundant power supplies operating in 1+1 protection at all times was crucial. Additional JPS protective relay communications required a total end-to-end delay time of less than 10 msec. Standard serial servers typically have an average delay of more than 40 msec.
Solution
JPS network technicians conducted an exhaustive series of latency tests between JumboSwitch units fitted with "Turbo-Serial" TC3847-3 interface cards and SEL 321L relays at two different substations.
The results confirmed that the delay on the JumboSwitch's special teleprotection card consistently tested out at less than 2.5 msec., end to end. Total delay averaged 9.8 msec. when the internal relay processing time was added.
In addition to teleprotection, the JumboSwitch multi-service Ethernet platform helped support a variety of other applications including SCADA, substation telephones, revenue metering and distribution automation.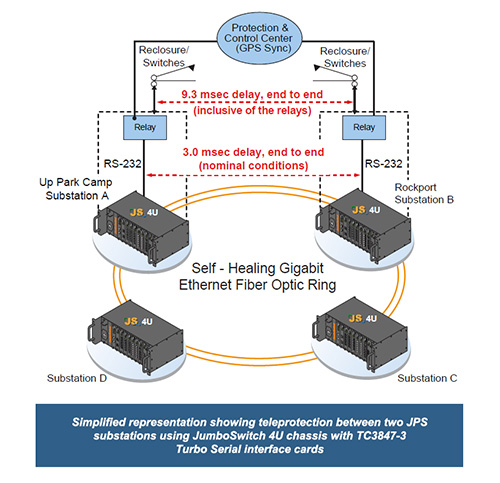 Texas New Mexico Power
Requirement
Texas New Mexico Power (TNMP) needed to find a temperature hardened C37.94 to Ethernet device to link protective GE L90 and SEL 411L relays over layer 2/3 networks between substations. Latency requirements needed were minimal.
Solution
After extensive latency testing, TNMP chose the JumboSwitch 1U chassis solution with a C37.94 card (model TC3846-2). The TC3846- 2 tested out to have a delay less than 5 msec (end-to-end) over TNMP's layer 2 Ethernet network and less than 14 msec. on its layer 3 Ethernet network. The four additional Ethernet ports provided by the 1U chassis as a standard feature gave TNMP an additional benefit.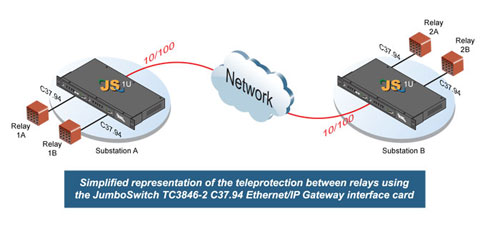 Tucson Electric Power
Requirement
Tucson Electric Power (TEP) needed a low latency industrial hardened Ethernet serialserver to connect SEL 311L relays between substations over fiber and microwave.TEP quickly determined that most currently available hardened serial servers were unsuitable. For example, one popular hardened serial server from a major Power Industry manufacturer tested out at an eye-popping 250 msec. of delay!
Solution
Specifically designed for low latency teleprotection applications, the TC3847-3 JumboSwitch RS-232 "Turbo-Serial" card has typical readings of less than 3 msec., exceeding TEP's requirement for a delay (excluding relays) of less than 10 msec. Because the JumboSwitch teleprotection solution also offered a Dry Contact card and 4 bonus Ethernet ports on the existing management card, TEP was able to reduce costs by eliminating hardware devices used previously for these applications.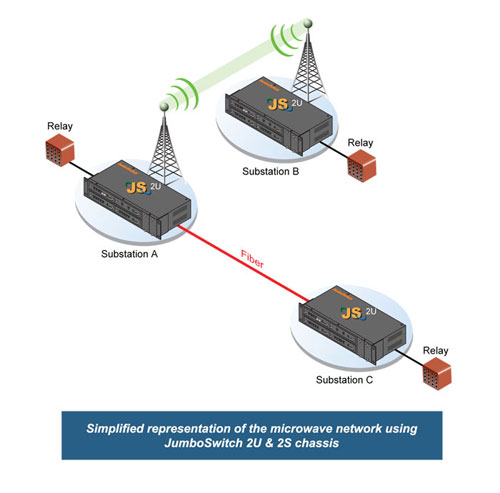 Power Transmission Utility
Requirement
A large Power Transmission Utility in Alberta, Canada needed a teleprotection G.703/64K to Ethernet connection to link Siemens SIPROTEC relays between substations with a delay of less than 10 msec (end-to-end). Other requirements included -48VDC power and the ability to withstand harsh winter conditions.
Solution
After extensive testing, the JumboSwitch model TC3846-1 interface card met all of the Power Utility's latency, power and environmental requirements. End-to-end latency was less than 8 msec. The TC3846-1 also provided built-in management capability (web GUI). In addition, TC LateView, a software program which works in conjunction with the TC3846-1 card, enabled the Power Utility to monitor real time latency on its Ethernet network, as well as immediately accessing current and historic network delay readings.