Our Role in Military & Government
Communications
Harsh environments call for tough, reliable equipment. For over 25 years TC has built industrial hardened voice and data communications products for layer 2. Equipment has been designed for various military and government sectors including Navy, Air Force, and Army operations.
Specializations and Applications
Phone Service for Mission Critical Communications
Phone Extensions in Mission Control Training Center (MCTC) - Connect analog phones using IEEE 802.3p/Q QoS prioritization to guarantee consistent, uncompressed voice regardless of network traffic. Use existing phone equipment for FXS-FXS or FXS-FXO channels. No need to re-train users. Experience the following features:
Ring instantly to a remote phone by picking up the line
Distribute calls to multiple locations anywhere in the VoIP network
Live temperature and power usage monitoring for each card
Call transfer without a receptionist using Auto Attendant
Call forwarding, music on hold, fax, and caller ID
Applications:
Phone Extensions in Mission Control Training Center (MCTC)
Phone Service for Underground Military Bunkers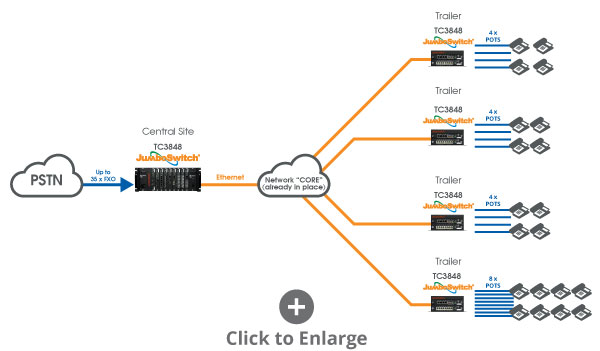 Updating Analog Radio and Modem Communications
Many military communication networks still need 600ohm analog radios or modems but network infrastructure is becoming IP based. Using multi-service ethernet and various gateways, JumboSwitch helps preserve legacy devices and update to an IP network.
Applications:
4-wire Radios over IP
MoIP Gateway to Connect Dial-Up over IP/MPLS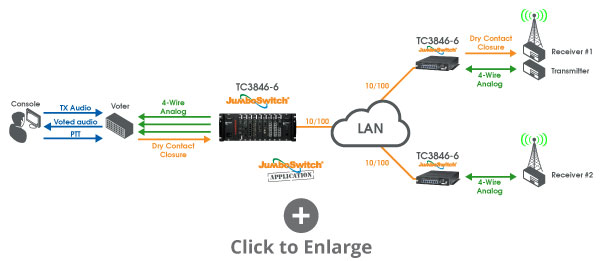 A History of Helping
Customers Succeed
Military Unit Uses Mobile VoIP Virtual PBX Network
A military tactical battle group needed to stay connected. Their Defense Switched Network (DSN) required dispatch between 17 communication sites and a Central Command Center (CCC). Three main requirements were also needed for the proposed system. Ultimately, the military group chose the JumboSwitch. Features that included scalability, a self-contained phone system, and an industrial hardened version were just a few reasons the Battle Group chose TC's products.
Learn more about the project requirements
"Thanks for looking into the module so quickly. We've been very happy with TC Communications equipment and service to date, and I've been recommending you guys pretty heavily to people we run into."


- Den DeCicco, defense contractor EG&G

"I am very impressed with the level of support you have given me with the trouble of shooting and advance trouble shooting and advance replacement....Since the units I use in my system have been superseded by newer models, the Tech Support staff had to go an extra step and have 2 units programmed to work with my older system. That is what I call support."


- Gary McCaughey, Airport Security Coordinator at Columbia Metropolitan Airport