Our Role in Radio Over IP
Solutions
Radio communications systems must provide maximum reliability and seamless integration across multiple products in the network. Radio over IP (RoIP) solutions provide stable, high quality voice audio, and maximum system reliability in critical network connectivity applications.
TC Communications specializes in communications for critical networks, namely 2 and 4-wire analog radio over IP and Ethernet networks.
Here are a few popular applications:
Providing stable, high quality voice, audio and system reliability between Emergency Dispatch Centers and remote radio transmitters and receivers
Linking 2-Way radio systems to a Voter at radio control centers Providing Ethernet, Analog and Dry Contact connectivity in one chassis
Replacing existing copper or leased line [link] with fiber optic connectivity devices to guarantee channel clarity, extend transmission distances and/or prevent signal loss due to degradation of traditional copper
Technology
The TC3846-6 supports voice bandwidths from 300Hz to 3.4KH. It can also be used to link or extend other types of analog, audio and intercom devices such as Frequency Shift Keying [FSK] modems, E&M, teleprotection relay controllers and dry contacts over Layer 2/3 IP networks.
As with all JumboSwitch products, it features hot-swappable interface cards, offers fiber optic and power redundancy and is available in extreme temperature versions.
Specializations and Applications
Voting Comparator over IP
Many public safety networks rely on Voters to monitor multiple remote sites and select the receiver with the best audio quality. Moving to IP radios would require a complete equipment overhaul and training.
The TC3846-6, is able to connect the 600Ω Analog and Dry Contact from the radio receivers at each tower. Through the support of the fiber optic ring or Ethernet network, the JumboSwitch at the Central Office can then hand off the signals the SNV-12 Voter/Comparator where it would then pick up the clearest radio signal from the field radios and pass it to the intercom.
Radio over IP will help network managers migrate both their analog radios and voting comparators to an IP network. Because of the uncompressed full 64kpbs signal, sound will be clearer on the new network.
Enhanced Audio with Analog Radio Over IP
Applications:
Voting Comparator over IP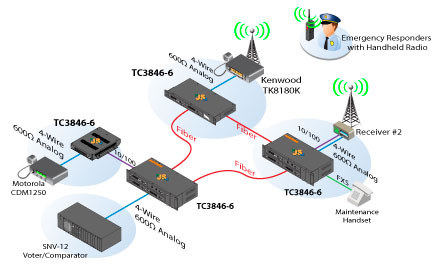 Leased Line Alternatives
As Telcos look to end services on copper leased lines, companies are looking for alternatives. Using RoIP, network managers can preserve existing analog devices while moving to an IP network. These networks tend to be more cost effective, easier to maintain and often owned internally.
Applications:
Leased Line Alternatives
Related Topics:
Leased Line Replacement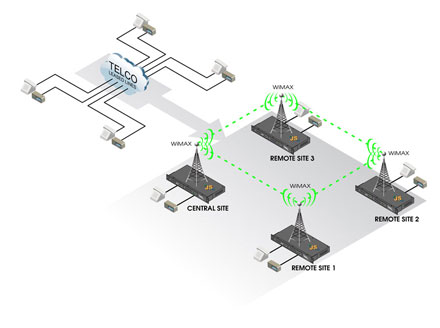 A History of Helping
Customers Succeed
Mid-Atlantic Utility Replaces Leased Lines
With the availability of Telco leased lines facing an uncertain future, Power Utility network managers are looking at alternative tools and transmission mediums for communications transport.
Learn about Radio Over IP as a leased line alternative
"Over the past thirty-five years I have used similar boxes from other vendors for similar applications. But I have never seen one that would produce such a linear, uniform audio transmission from one end to the other - especially across an IP link."