Analog Radio Communication
Radio over IP
Radio communications systems must provide maximum reliability and seamlessly transmit critical messages across networks that include diverse interfaces from multiple vendors. TC Communications provides industrial grade radio communication network products for linking or extending 2/4 wire analog, audio and intercom devices the most popular being the TC3846 Analog & Dry Contact Ethernet Gateway which works perfectly in Radio over IP solutions.
Radio over IP (RoIP) solutions provide stable, high quality voice audio, and maximum system reliability in critical network connectivity applications. TC Communications specializes in radio communication connectivity solutions via RoIP, including applications requiring industrial hardened or ruggedized products for harsh environments. Here are a few popular applications:
Providing stable, high quality voice, audio and system reliability between Emergency Dispatch Centers and remote radio transmitters and receivers
Linking 2-Way radio systems to a Voter at radio control centers
Providing Ethernet, Analog and Dry Contact connectivity in one chassis
Replacing existing copper or leased line with fiber optic connectivity devices to guarantee channel clarity, extend transmission distances and/or prevent signal loss due to degradation of traditional copper
The TC3846-6 support voice bandwidths from 300Hz to 3.4KH, feature hot-swappable interface cards, offer fiber optic and power redundancy and are available in extreme temperature versions.
TC3846-6 Analog/Dry Contact-over-Ethernet Gateway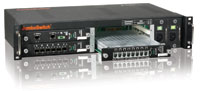 Go to Datasheet
The TC3846-6 is the most versatile analog radio connectivity solution because it is part of the JumboSwitch product family. It is available in a chassis that can also support 13 other types of interfaces including T1 and legacy interfaces such as modem/fax over IP.
In addition, the TC3846-6 can be used to link or extend other types of analog, audio and intercom devices such as Frequency Shift Keying [FSK] modems, E&M, teleprotection relay controllers and dry contacts over Layer 2/3 IP networks.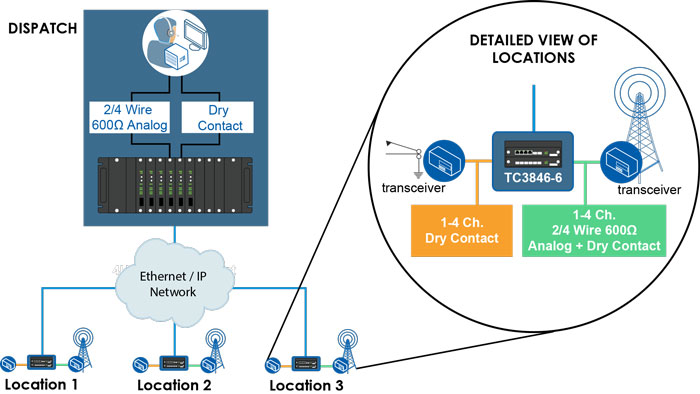 4-wire Analog with SNV-12 Voter/Comparator over IP (RoIP)
The TC3846-6, is able to connect the 600Ω Analog and Dry Contact from the radio receivers at each tower. Through the support of the fiber optic ring or Ethernet network, the JumboSwitch at the Central Office can then hand off the signals the SNV-12 Voter/Comparator where it would then pick up the clearest radio signal from the field radios and pass it to the intercom.
The JumboSwitch®, with the TC3848, can also provide a virtual PBX to support maintenance phone lines at each tower site.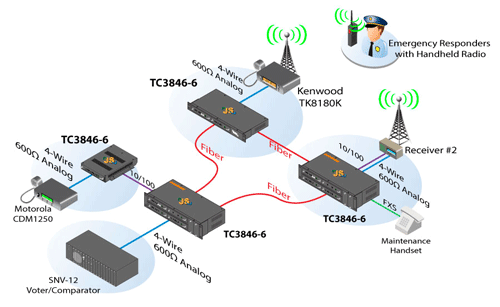 Other Applications: