Overview
The JumboSwitch® offers a unique blend of popular Ethernet and legacy interfaces to provide an integrated, cost-effective and reliable set of network solutions for the transportation industry. Most applications fall under two basic categories: Light Rail and Railroads & Heavy Rail.
Multi-Service Ethernet & Transport Applications
Light Rail Station Communications
Transport various legacy signals over Ethernet to Train Operation Center.
Preserve existing legacy equipment while upgrading to modern packet-based communications network.
Freight Rail Wayside Networks
Monitor rail safety and security over Ethernet.
Light Rail
In light rail and metro rail systems, reliable communications for Network Operation Centers-to-Station (NOC) and Station-to-Station applications are critical to help ensure passenger safety and convenience. In this application, the JumboSwitch provides a reliable communications backbone for applications such as public address systems, ticket vending machines, video surveillance and security systems. The JumboSwitch also natively supports delay-sensitive, mission-critical control and signaling applications traditionally served by separate TDM-based products.
Freight Rail
Critical applications for heavy rail systems include: voice, video, data, and real time information between Network Operation Centers (NOC), trains and stations. The JumboSwitch® is a viable networking solution because it supports real time signaling and central network management for electronic interlocking systems required in the NOC.
In many instances the JumboSwitch® Gigabit Ethernet is used as a backbone for extending Serial, Ethernet and hundreds of encoded (e.g. MPEG 2) video streams over "long reach" 1000Base-SX/LX links spanning hundreds of kilometers. Comprehensive centralized network management is provided by TCView®.
JumboSwitch® Positive Train Control Integration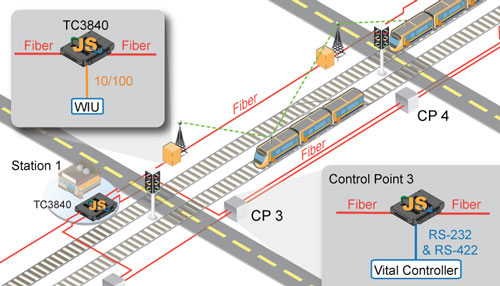 Signal and Control Application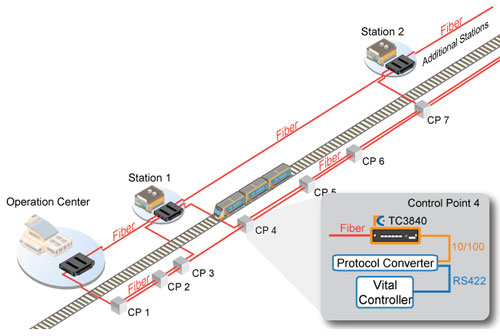 Other Applications (click for full diagrams)