Our Role in Oil & Gas
Communications
Communication via the data link is an important asset for oil and petroleum refineries. Because of refineries sprawling nature data must transmit quickly to avoid errors and equipment malfunction. A Multi-service Ethernet Platform (MSEP) provides unequaled IP-based integration for data and voice. MSEPs also deliver security, redundancy, and industrial hardened strength. The JumboSwitch is an MSEP that connects devices including RTU, Virtual PBX, telephones, IP cameras, access panels and a host of other products. Examples of supported systems include:
SCADA & Telemetry
Public Address (PA) & General Alarm (GA)
CCTV
Virtual PBX & Telephony
Access Control Systems (ACS)
Land Mobile Radio (LMR) Trunked Radio
Local Area Network (LAN) & Wide Area Network (WAN)
Microwave Radio
Specializations and Applications
JumboSwitch Flexibility
Experience reliable operation during wide temperature swings, electromagnetic interference (EMI), radio interference, vibrations or moisture and humidity fluctuations. Available in an industrial hardened version with optional conformal coating. The JumboSwitch is the logical choice for SCADA systems and similar applications. Connect to devices that use RTUs, PBXs/Telephones, IP Cameras, Access Panels, and a host of other channels. Also experience the security and redundancy critical to oil and gas applications.
Applications:
JumboSwitch Flexibility
Offshore Site Connectivity
Pipeline Monitoring & Control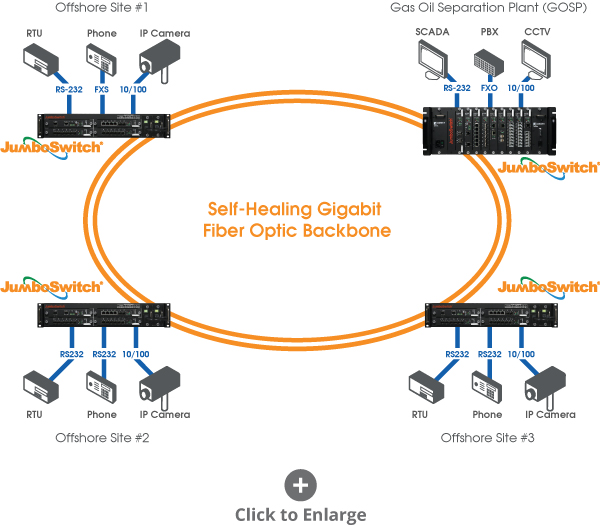 Extend Voice Network via Fiber Optic
TC Communications also offeres Platform Voice Netowork Connectivity solutions to easily extend voice networks over exisiting fiber optic networks.
Applications:
Extend Voice Network via Fiber Optic