Overview
As a Multi-Service Ethernet Platform (MSEP), the JumboSwitch provides unequaled IP-Based Ethernet, Voice and Data integration. It is a highly efficient networking solution for the oil, gas and petrochemical industries.
The JumboSwitch is a logical choice for SCADA systems and similar applications that connect various devices including RTUs, PBXs/Telephones, IP Cameras, Access Panels, Etc. It also provides the security, redundancy and industrial hardened capability that is so often critical to oil and gas applications. Here are some examples:
SCADA & Telemetry
Public Address & General Alarm (PA/GA)
CCTV
PBX/Telephony
Access Control Systems (ACS)
LMR Trunked Radio
LAN/WAN
Microwave Radio
Moreover, the Jumboswitch's modular design offers users the flexibility to pay as they grow; its VoIP and TDM over IP/Ethernet capability (10/100/1000 Ethernet, Fiber, T1/E1, 2/4-Wire E&M, RS-232, RS-485, etc.) gives users the ability to expand their communications networks as needed in the future.
The JumboSwitch is available in a full Industrial hardened version that ensures reliable operation in the event of wide temperature swings, electromagnetic interference (EMI), radio interference, vibrations, or moisture and humidity fluctuations. Conformal coating is optional. TC's Engineering Department features a variety of sophisticated testing equipment to verify that its Industrial Grade products meet the most demanding environmental and EMI requirements.
Applications
Easily extend voice networks via Fiber Optic network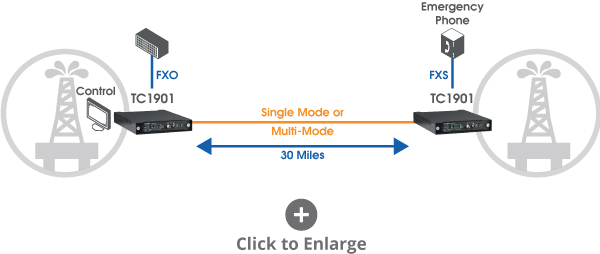 Connect SCADA & various devices over a redundant fiber network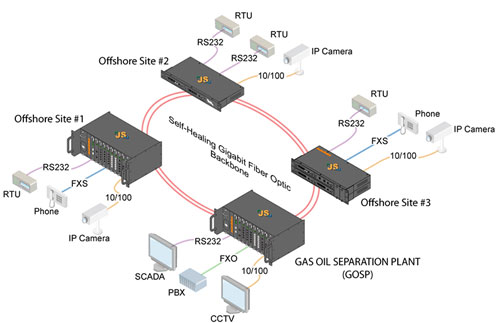 Other Applications (click for full diagrams)