Our Role in Public Safety
Communications
Police officers, emergency dispatch, and fire fighters rely on undisturbed communications and 24/7 network uptime. TC Communications concentrates on providing emergency communications with low latency and better sound quality for a dependable network. In addition, TC equipment boasts minimal setup, preventative procedures, and easy monitoring.
A few equipment applications include:
Analog Radio over Ethernet/IP and MPLS Networks
Analog Radio over T1
Analog Fiber Solutions
Emergency Phone Connectivity
Traffic Control
Specializations and Applications
Analog Radio over IP/MPLS
Emergency dispatch centers can communicate with remote radio transmitters and receivers using Radio over IP/MPLS devices. 2-way radio systems can link to a voter at radio control centers that provide Ethernet, analog, and dry contact using only one chassis. Existing copper and leased lines can be replaced with fiber optic connect-able devices to guarantee channel clarity, extend transmission distances or prevent signal loss.
Radio over IP Solutions
Applications:
Radio Over IP/MPLS Networks
Video: Using SNV-12 Voter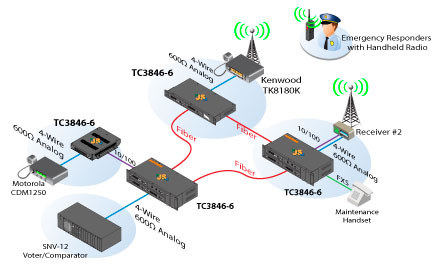 Voice, Analog and Data over Fiber
Replace expensive leased line phone circuits and experience clean, consistent audio quality with the use of fiber optic cable. Voice bandwidth from 300Hz to 3.4KH is supported as are hot-swappable interface cards, along with fiber optic and power redundancy. Extreme temperature versions can also be used.
Since effective line losses are zero and level settings simplified the multiplexer remains precise thanks to internally redundant transmit and receive functions. Optional fiber redundancy and path diversity keep the radio system immune to going out of service due to any single component failure.
Applications:
4-Wire Analog Central Dispatch Fiber Connectivity
4-Wire Analog over T1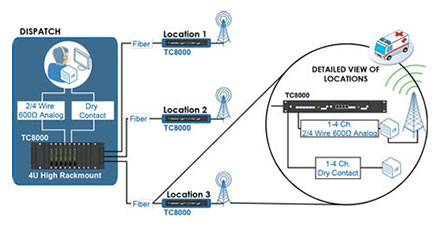 Emergency Phone Line Connection
Public safety networks often need the ability to connect to a central security office. TC offers a variety of reliable, tested solutions. VoIP virtual PBX, fiber optic phone extenders, analog multiplexers, or telephone multiplexers can be supported with TC equipment. Products support multimode or single mode fiber optic cable. Networks can also utilize existing copper cable for Ethernet products.
Applications:
Emergency Phone Line Connection
Code Blue Phones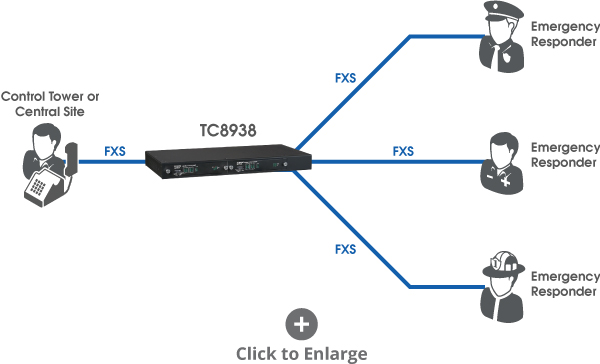 A History of Helping
Customers Succeed
ESRN Eliminates Leased Line Costs
East Shore Radio Network (ESRN) needed a replacement solution to eliminate their leased line costs. Support for leased lines had also lessened in recent years. Finding a cost-effective and future proof solution was critical. ESRN was able to fully integrate existing equipment while improving audio quality.
Watch the video about the East Shore Radio Project
Learn about Radio Over IP as a leased line alternative
Police Use Voice & Data Platform for Radio System
A Midwest communications company specializing in 2-way Radio Systems needed to create a communications link to transport Ethernet, Analog and Dry Contact Channels between a county dispatch center and a police department radio control center. The goal was to find a managed, all-in-one-box Ethernet network solution that was both reliable and cost efficient.
Learn about the dry contact over IP
Multi-County Public Safety Agency Upgrades Microwave Radio Network
A public safety communications network in Iowa required a system-wide replacement to keep police, fire and emergency first-responders connected. Reliability of equipment had degraded and vendor support uncertain. Using a multi-service Ethernet platform (MSEP), STARCOMM was able to improve audio quality and network management. After searching for a compatible option, they decided on the JumboSwitch. With it they were able to enjoy Ethernet port limiting, management and self-healing redundancy.
Video: Leased Line Replacement and Legacy Preservation - Case Study
Learn about the public safety radio system
"We were prepared to deal with some problems during the installation...and we did have a few...but the issues were with the existing equipment and weren't related to the JumboSwitch. It is very adaptable to other equipment in the network and all counties are pleased with the system's service and reliability."

"TC did a great job taking something that may have been a little bit over the threshold but still being able to process it and not dropping packets, not having the buffer under runs."