Our role in Public Safety Communications
First responders depend on clear and reliable communication networks to succeed at their jobs and to save lives. Officers, dispatch and firefighters need clear voices over their radios, completely reliable network uptime and products they can monitor and debug quickly. Our products are designed for clarity, reliability, and minimal setup and maintenance.
Applications
Analog Radio over IP and MPLS Networks
Analog Fiber Solutions
Emergency Phone Connectivity
Transportation and Traffic Control
Analog Radio over IP and MPLS Networks
TC Communications specializes in radio communication connectivity solutions via Radio over IP (RoIP), including applications requiring industrial hardened or ruggedized products for harsh environments. Here are a few popular applications:
Providing stable, high quality voice, audio and system reliability between Emergency Dispatch Centers and remote radio transmitters and receivers
Linking 2-Way radio systems to a Voter at radio control centers
Providing Ethernet, Analog and Dry Contact connectivity in one chassis
Replacing existing copper or leased line with fiber optic connectivity devices to guarantee channel clarity, extend transmission distances and/or prevent signal loss due to degradation of traditional copper
Analog Radio and Voting Comparators over IP Networks
The TC3846-6, is able to connect the 600Ω Analog and Dry Contact from the radio receivers at each tower. Through the support of the fiber optic ring or Ethernet network, the JumboSwitch at the Central Office can then hand off the signals the SNV-12 Voter/Comparator where it would then pick up the clearest radio signal from the field radios and pass it to the intercom.
The JumboSwitch, with the TC3848, can also provide a virtual PBX to support maintenance phone lines at each tower site.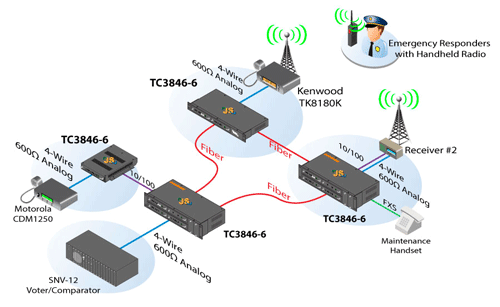 Analog and Dry Contact to IP Application Using SNV-12 and Motorola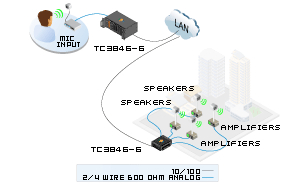 4-Channel RoIP Broadcast Application
Analog, Voice & Data Fiber Solutions
TC Communications also provides products for other radio system applications, such as radio over fiber via the TC8000 28-channel Analog Fiber Multiplexer. Like the TC3846-6, the TC8000 also supports voice bandwidths from 300Hz to 3.4KH, feature hot-swappable interface cards, offer fiber optic and power redundancy and are available in extreme temperature versions.
TC8000 Analog Multiplexer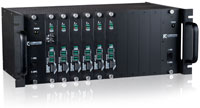 Go to Datasheet
The most economical, simple radio tower site solution is the TC8000 Analog Multiplexer. Because it uses fiber optic cable rather than phone circuits, the audio signal quality is clean and consistent. Many radio dispatch systems use leased phone circuits which are particularly susceptible to line distortions and quality can vary from day to day.
In addition, since effective line losses are zero, level settings are simplified and, once made, remain precise because the multiplexer's power and transmit/receive functions are internally redundant. When combined with the TC8000's optional fiber redundancy and fiber path diversity, the emergency radio system is immune to "going out of service" due to any single component failure.
Emergency Phone Connectivity
Connecting Public Safety or Campus Emergency phones back to a central/control security center is a critical application.
TC offers a variety of reliable and proven connectivity solutions including a VoIP Virtual PBX, Fiber Optic Phone Extenders or Analog or Telephone Multiplexers. Products support multimode or single mode fiber optic cable or, optionally, copper cable for Ethernet products.
Most TC Communications VoIP, Ethernet and fiber optic voice products are certified as compatible with InterActTM 500 and CB3100 Series Emergency Phones manufactured by Code Blue® Corporation. These voice products also offer additional benefits such as optional Conformal Coating for units located in Code Blue® pedestals enabling immunity to hazardous, dusty or humid environments and several offer dry contacts (closures/detectors) to activate security cameras.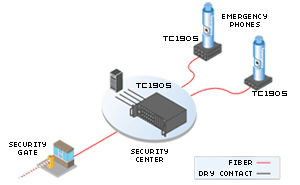 Code Blue Application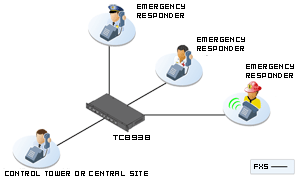 Emergency Phone Line Bridge "Crash Phone" Application
Intelligent Transportation System (ITS)/Traffic Control
Using copper, fiber optics or wireless, JumboSwitch systems are often deployed at intersections, bridges, and highways. The JumboSwitch can transport voice, data or Ethernet signals between central management sites and remote operation systems such as:
Traffic signals
Cameras
Variable Message Signs (VMS)
The JumboSwitch provides reliable data connectivity between roadside cabinets. It also supports voice applications (full-featured PBX) and real-time traffic management applications with IP and/or Serial-over-IP interfaces.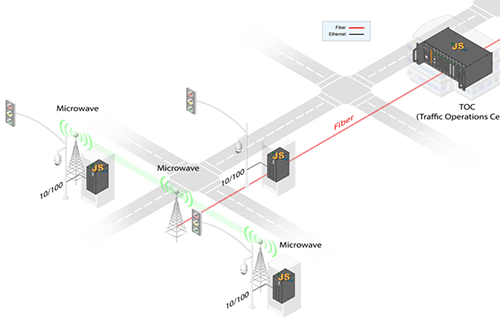 Intelligent Traffic System Application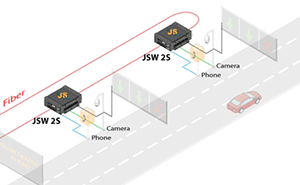 Traffic Control Application
Application Diagrams: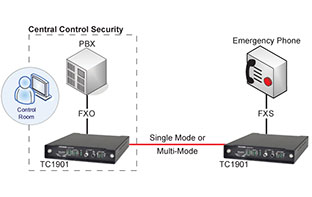 Emergency Phone Application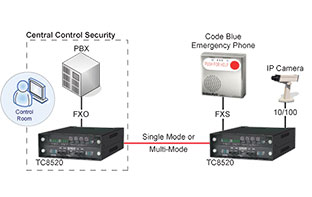 Emergency Phone with IP Camera
Public Safety Products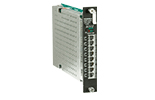 TC3846-6

Analog and Dry Contact IP Gateway Card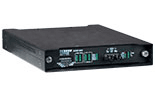 TC8000

Analog, Audio & Data Fiber Optic Multiplexer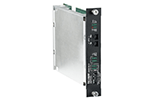 TC1905

Fiber Optic Telephone & Dry Contact Extender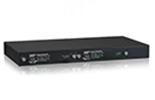 TC8938

Emergency Phone Line Bridge / Crash Phone