Overview
The JumboSwitch's TDM over Ethernet/IP capability simplifies communication network design. It enables legacy equipment (e.g. T1/E1, T3/E3, RS-232/RS-485) to co-exist harmoniously with more modern technologies on an Ethernet/IP platform. These technologies include Ethernet, GigE fiber ports, Turbo Serial for protective relay communication, and VoIP+, a virtual VoIP PBX without the need of additional Call Managers or SIP Servers
Applications
Serial Server & Serial-to-Ethernet Conversions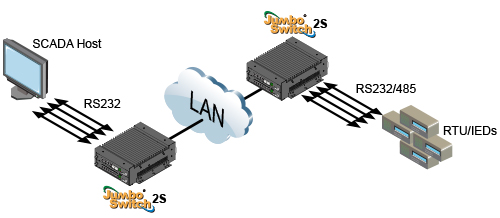 For Teleprotection-over-IP applications, a high speed, low latency "Turbo" card is available. Users can mix or match RS232, RS422 & RS485 because each channel is independent. Point-to-point serial tunneling is supported.
T1/E1 & T3/E3 over Ethernet (Pseudowire)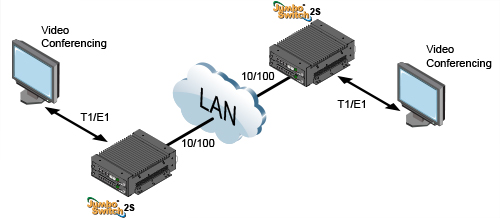 Popular applications include linking PBX's or Cell Towers to Central Offices over existing Layer 2 / Layer 3 Ethernet networks. The Ethernet-over-PDH (TC3845) interface card is also used to link Video Conferencing sites using T1/E1 & T3/E3 circuits.
Ethernet over T1/E1 & T3/E3 (Ethernet over PDH)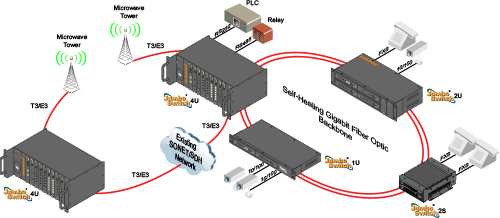 The Ethernet-over-T1/E1 or Ethernet-over-T3/E3 Gateway (TC3844-1 or TC3844-3) can be used with Telcomm networks or infrastructure (i.e. T1/E1 Landline or T1/E1s/PDH/SDH Microwave Carrying T1/E1), bonded transparent LANs and demarcation points between Carrier & Customer networks.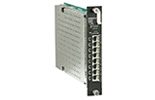 TC3847-3

4-Channel Turbo Serial-Over-IP