TC3846-6
600 Ohm Analog and Dry Contact-over-IP Gateway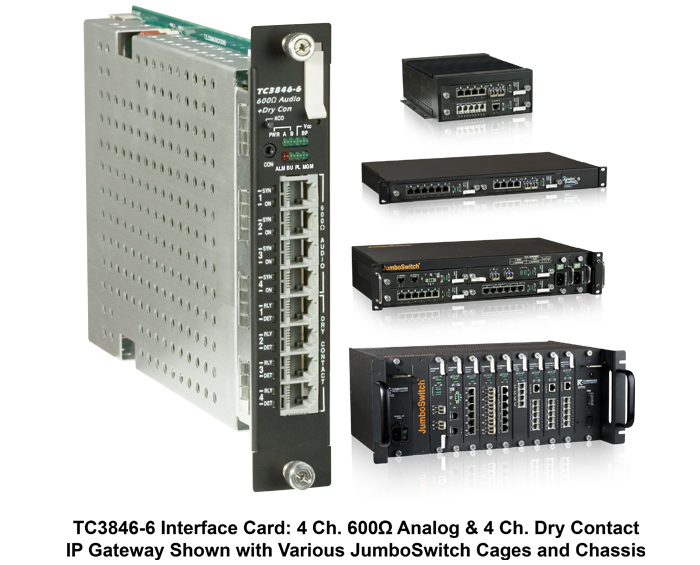 This Analog & Dry Contact IP Gateway links or extends up to 4 channels of 600Ω 2/4 wire analog and dry contacts across Layer 2/3 Ethernet networks.
1-4 Scalable Channels of Analog/Dry Contact over IP
1 & 2 Ch. Units Field Expandable to 2 or 4 Channels
64Kbps/Channel (No Compression)
Extremely Low Latency
Temperature & Power Consumption Monitoring
Extreme Temp (-40°C to +80ºC) Optional
Meets or Exceeds I EC 61850-3, IEEE 1613 & NEMA TS-2 Standards
Member of JumboSwitch Product Family
Typical applications include linking or extending various 600Ω analog, audio and intercom devices, (e.g. Frequency Shift Keying [FSK] modems), E&M, teleprotection relay controllers, and dry contacts over Layer 2/3 IP networks.
It is also used to improve voice quality and increase system reliability in harsh environments, to replace unreliable leased phone circuits and to stabilize voice level settings for 600Ω audio channels.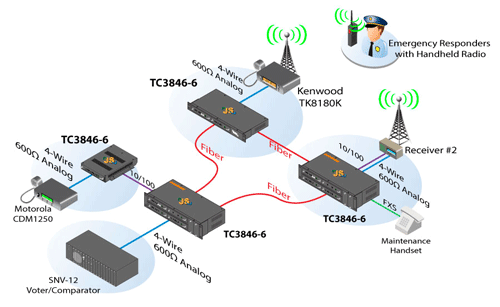 Connection Capacity
600Ω (2/4 Wire)1, 2, or 4 Ports
Dry Contact1, 2, or 4 Ports
Ethernet1 Port
Electrical
Dry Contact Interface
Normal openStandard
Normal closeOptional
Load Voltage (peak AC)60V
Load Voltage (DC)60V
Continuous load current0.55A
Peak load current1.2A
Max On Resistance2.5 Ω
Output Capacitance150pF
Detector Max input voltage9V
600Ω Analog Interface
Impedance600Ω
Max Input3Vp-p
Frequency band300 to 3400Hz
Ethernet Interface
StandardsIEEE 802.3, 802.3u, 802.1p&Q
ConnectorRJ45
Console PortRJ45
Regulatory Approval
CE, FCC Part 15, CISPR (EN55022) CLASS A, IEC 61850-3, IEEE 1613, NEMA TS-2
System
Bit Error Rate1 in 10

10

or Better
Diagnostic Functions
Local and Remote Loopback for Analog and Ethernet
LEDs
Unit StatusPWR (A, B), Alarm, Vcc, CS, MS
ChannelStatus
EthernetLink/Act
Power
Standard12VDC
Optional24VDC, -48VDC or 125VDC (1U/ 2U/ 4U only), 90-260 VAC, 50/60Hz
Power Consumption< 10W
Operating Temperature
Hi-Temp-20°C to 70°C
Extreme Temp-40°C to 80°C
Storage
Temperature-40°C to 90°C
Humidity95% non-condensing
Physical (4-Channel Standalone)
Height(3.15 cm) 1.24"
Width(17.78 cm) 7.0"
Depth(22.86 cm) 9.0"
Weight(0.3 kg) 0.75 lbs
For More Information