News and Product Updates
07/09/2016 - TC Joins D2 Panel Meeting with PSC Consulting at CIGRE Australia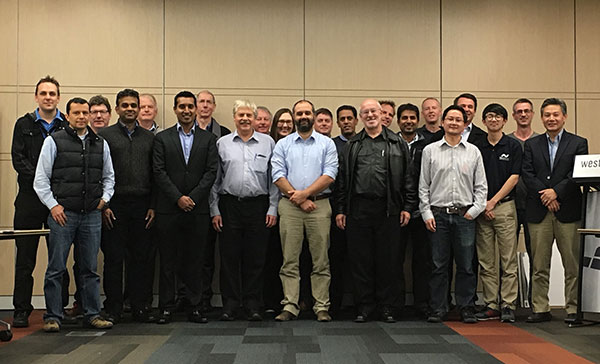 Perth, Australia – TC Communications' Utility Network Specialist, Nick Lee joined PSC Consulting along with 20 panelists representing Utilities in Australia and New Zealand for the D2 Panel at CIGRE Australia.
The D2 Panel's mission is to promote the exchange of knowledge and field experience in Utility Communications and Systems. PSC Consulting's Principal Consultant Victor Tan is the Convener of the panel.
About CIGRE CIGRE is a global technical forum for large electric systems, aimed to share knowledge and support its members by leveraging its global network to develop enhanced solutions for Australian organizations and the community. 
TC's first time at CIGRE was centered in understanding the ongoing concerns and difficulties in Utility Communications.
Excerpts from Nick's Q&A on Teleprotection over IP:
Q: Have customers used the JumboSwitch for teleprotection on a microwave network?
A: Yes, but Ethernet microwave has to meet a few primary specifications:
Must support true full duplex (FDD), not ping-pong or half duplex type (TDD).
Must provide enough bandwidth based to support interface card bandwidth requirement (more under Q3 "bandwidth usage" below).
Should support QoS (Priority).
Have low Ethernet jitter (Packet Delay Variation), within 10msec.
Zero packet loss.
Licensed microwave is preferred –offers better performance and less interference than non-licensed microwaves.
Q: How do relays react to network convergence (during the time when fiber breaks on the network and ERPS or RSTP kicks in) for 87L protection scheme?
A: For most modern digital relays, it can tolerate 4 to 5 power cycles (~80msec) before making decision to trip or not trip. This is what we experienced for 87L Line Differential protection scheme. The result was derived from testing by ActewAGL on their network (MPLS). The convergence time is less than 80msec with no impact on the relays.
Q: How much bandwidth is used for one channel C37.94 channel?
A: There are five possible configurable latency settings. The two extremes are:
4.181Kbps (n=12 on C37.94, providing 1 msec introduced latency with a shallow jitter buffer)
1.098Kbps (n=12 on C37.94, providing 18.5 msec introduced latency with a deep jitter buffer)
Note: There is a trade-off between jitter tolerance, latency & bandwidth utilization. The lower the latency setting, the lower the jitter tolerance, and the higher the Ethernet bandwidth is used. The higher the latency setting, the higher the jitter tolerance, and the lower the bandwidth required.
Q: What technology is used for ring protection/convergence?
A: Agnostic. The upstream switches may provide RSTP/MSTP & ERPS.
About TC Communications specializes in Ethernet, Voice and Data communications products for fiber optic networks. Engineering, manufacturing, technical support, sales & administration are located in one central location in Irvine, California.  Since 1991, TC has offered industrial networking products including media converters, modems, multiplexers, Ethernet switches, management software and the JumboSwitch family. All products are designed for harsh environment applications such as utility substations, water treatment plants, military bunkers, emergency systems, traffic control cabinets and rail stations.