TC3848-3 and -4
2 Ch. or 4 Ch. FXS or FXO over Ethernet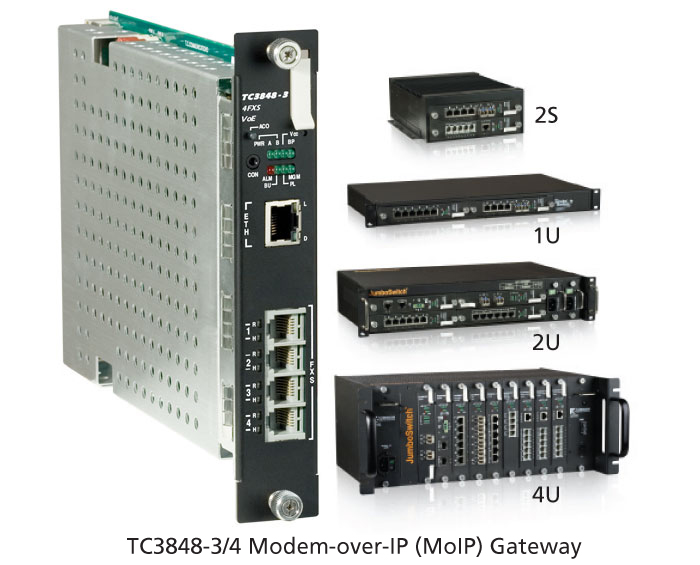 This Modem Over IP is compatible with CCITT and Bell data modem standards. It is easy to configure and offers extremely low latency.
Features
FXS (TC3848-3) or FXO (TC3848-4)
Extends 2 or 4 Ch. 2-Wire Telephone/Dial-up Links
64 Kbps DS0 Channel (No Compression)
Extremely Low Latency
VLAN & QoS Support
Temperature & Power Consumption Monitoring
Extreme Temp (-40°C to +80ºC)Optional
Meets or Exceeds I EC 61850-3, IEEE 1613 & NEMA TS-2 Standards
Member of JumboSwitch® Product Family
Applications
The TC3848-3/4 MoIP Gateway is used to link analog telephones or legacy dial-up devices including data modems, fax machines, meters, ATM machines and Credit Card machines over Ethernet/IP or MPLS networks.
It can also be a critical connectivity product for completing migration from a legacy network to a fully integrated voice and data over Ethernet/IP network.
Typical applications include:
Connecting a TC3848-3 FXS interface to a 2-wire analog phone station and a TC3848-4 FXO interface to PSTN for outside telephone service

Connecting a TC3848-3 FXS interface to a dial-up meter in the field and a TC3848-4 to a PBX to enable a PC with a built-in dial-up modem to collect information and communicate with a central office.

Extend Analog Phones or Legacy Dial-up Devices over Ethernet / IP Networks

Specifications
Electrical
FXS/FXO Interface
Impedance600Ω
Frequency Band300Hz to 3400Hz
ConnectorRJ11
Ethernet Interface
StandardsIEEE 802.3, 802.3u, 802.1p&Q
ConnectorRJ45
Console Interface
Connector2.5mm Audio Jack
SLIC Characteristics
Maximum Ringer Load (REN)3
Ringer Voltage50Vrms
Distance4,000 feet (1.2192 km)
Management
Web, SNMP, Serial Console, and Telnet
Regulatory Approval
CE, FCC Part 15, CISPR (EN55022) CLASS A, IEC 61850-3, IEEE 1613, NEMA TS-2
LEDs
Unit Status PWR (A, B), Alarm, BU, PL, Vcc, BP, MGM
ChannelRing, Hook
EthernetLink, Duplex
Power
Standard12VDC
Optional24VDC, -48VDC or 125VDC (1U/ 2U/ 4U only), 90-260 VAC, 50/60Hz
Power Consumption< 10W
Operating Temperature
Standard Temp-20°C to 70°C
Extreme Temp-40°C to 80°C
Storage
Temperature-40°C to 90°C
Humidity95% non-condensing
Physical (rack mount card)
Height(3.15 cm) 1.24"
Width(17.78 cm) 7.0"
Depth(22.86 cm) 9.0"
Weight(0.3 kg) 0.75 lbs
Ordering Information
TC3848-3-22 Ch. FXS
TC3848-3-44 Ch. FXS
TC3848-4-22 Ch. FXO
TC3848-4-44 Ch. FXO
*Contact factory for higher requirements
Ordering
For More Information