TC1910
Telephone/Analog-over-Ethernet Extender (10BaseT)
The TC1910 Ethernet Telephone/Analog Extender provides toll quality telephone service over LANs. Compatible with POTS Key Systems and PBXs, it has a built-in Codec that digitizes voice and converts to packets for transmission between local and remote TC1910s with designated IP addresses.
Features
Extends Telephone/Analog Link via 10 Base-T Ethernet Connection
Web-Based Configuration Interface
PBX & Key System (POTS) Compatible
Voice Bandwidth from 300Hz to 3.4KHz for Toll Quality Sound
18 LEDs for Diagnostics & Status Monitoring
Built-in Dry Contact Relay for External Alarm and Ringer Connection
12VDC, Optional 24VDC, -48VDC, 125VDC, or 115/230VAC with Power Adapter
Hardened Temperature Version (optional)
Applications
The TC1910 is intended to provide flexible point-to-point telephone service via Ethernet Networks. It is often used by maintenance or service personnel in Campus, Traffic Control, or Utility Substation Networks.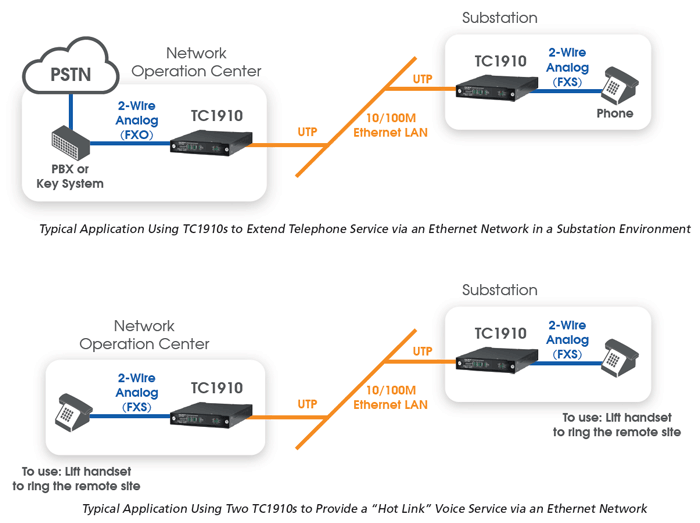 Specifications
Audio Bandwidth
Bandwidth300Hz to 3.4Khz
Electrical
Phone ConnectorRJ11 Female
Ring Voltage55Vrms at 25Hz (Depending on the ringing load)
FXO Impedance600 Ohm
FXS Impedance600 Ohm
Ethernet (10Base-T)RJ45 Female
Rate10Mbps
Visual Indicators
Off Hook, Ring, Master/Slave, Hot Link, Link Status, Tx and Rx Volume, DHCP, off-hook, FXO, FXS, Alarm, Link, Sync, Activity, VccA, VccB, PWR A, PWR
Alarm / Ring
Dry ContactNormal OPEN
Power
Standard12VDC @500mA
Optional24VDC, -48VDC, 125VDC, or 115/230VAC with power cube
Temperature
Operating-10°C to 50°C
Hi-Temp(optional)-20°C to 70°C
Storage-40°C to 90°C
Humidity95% non-condensing
Physical (Standalone Unit)
Height(3.53 cm) 1.39"
Width(18.13 cm) 7.14"
Depth(24.89 cm) 9.80"
Weight(907 gm) 2.0 lbs
Ordering
For More Information