2013 - Paraguay Power Company Deploys JumboSwitch as Lower Cost Alternative to SONET/SDH System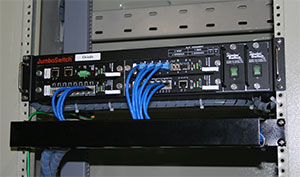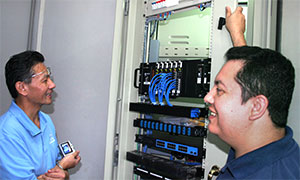 The solution that fulfilled all of ANDE's requirements was the JumboSwitch Multi-service Ethernet Platform.
Costing less than a comparable SDH/SONET system, the JumboSwitch provided all of the required interfaces for ANDE's applications: Ethernet, Teleprotection (RS232), E1 over IP and VOIP with virtual PBX capability.
In addition, the JumboSwitch system offered a comprehensive network management system, "TCView," that helped technicians with minimal training to deploy, maintain and reconfigure a JumboSwitch network.
For example, configuring a point-to-point Teleprotection circuit with the JumboSwitch is a simple matter of programming the source IP address to the destination IP address. (Conversely, configuring this same circuit on a SDH/SONET system is more complicated and time consuming).
The installation went smoothly. ANDE deployed the JumboSwitch's E1 over IP card to link to its Remote Terminal Units (RTU); the "Turbo serial" RS232 low latency card for Teleprotection relays, and the VoIP card to enable voice communications between the substations and back to the central office.(See diagram below).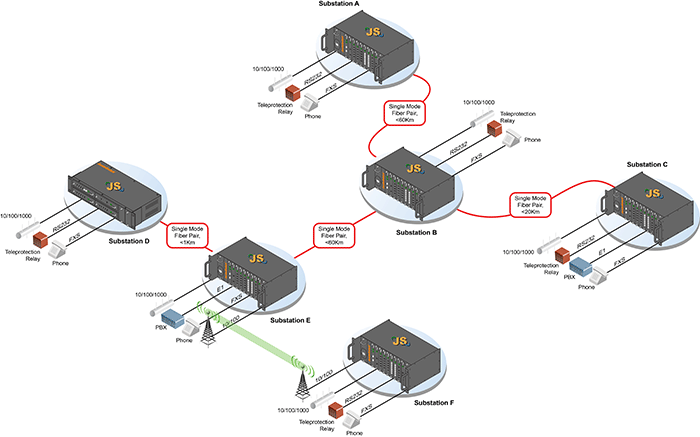 Enlarge Diagram
The JumboSwitch network connects five substations around the city of Asuncion, Paraguay back to the Central Office. The 250km self-healing ring network infrastructure is comprised of single mode fiber and one microwave link.