TC3840-1 and -2
Main and Management Ethernet Switch Cards
The JumboSwitch Main (TC3840-1) and Management (TC3840-2) plug-in cards provide layer 2 switching functionality and the central switching fabric for JumboSwitch interface cards. Each 2U/4U chassis must include both a Main and a Management card to function properly.
Features
Provides Layer 2 Switching Functionality
Fully Managed via CLI, Telnet & SNMP
2-Port SFP Gigabit for Main Card
1-Management Port and 1-Console Port for Management Card
Built-In Power/Temperature Sensors
Industrial Hardened & IEC 61850-3, IEEE 1613 & NEMA TS-2
Applications
All JumboSwitches must include Main and Management plug-in cards to operate properly. The Management Card functions as the JumboSwitch's central processing unit and the Main Card is the control bus access point for JumboSwitch management. Together, these cards provide the "intelligence" for the entire JumboSwitch network platform.
There are two types of Main & Management plug-in cards: individual (TC3840-1 & TC3840-2) and combination (TC3840-3). JumboSwitch 2U & 4U chassis options use individual cards and 1U & 2S options use the "combo card."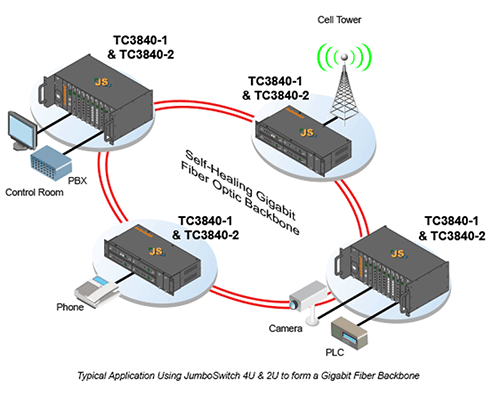 Specifications
Data Rates
10/100/1000 Mbps with Rate ControlYes
Optical (Main Card)
TransmitterELED/LASER*
ReceiverPIN Diode
Wavelength
SFP850nm MM
SFP1300/1550nm SM
SFP Optic
ConnectorsLC
Port2
Interface1000SX/LX
Electrical (MGMT Card)
Management Ports
ConnectorRJ45 Female
Port1
Console Port
ConnectorRJ45 Female
Port1
System
Bit Error Rate1 in 10

10

or Better
Regulatory Approval
CE, FCC Part 15, CISPR (EN55022) CLASS A, IEC 61850-3, IEEE 1613, NEMA TS-2
Diagnostic Functions
Traffic Statistics, Transmit Power & Receive Power and Temperature
LEDs
Main
PWR (A,B), Vcc, ALM, MGM Yes
SLOTS, Link/ActYes
MGMT
PWR (A,B), Vcc, BP, ALM, MGM, SHRYes
MSTR, SYSTEM ALARM, Link/Act, SpeedYes
Power
Standard15W
Option12, 24, -48, 125VDC or 115/230 VAC, 50/60Hz
Operating Temperature
High Temp-20°C to 70°C
Extreme Temp-40°C to 80°C
Storage
Temperature-40°C to 90°C
Humidity95% non-condensing
Storage
Height(3.2 cm) 1.25"
Width(17.8 cm) 7.0"
Depth(23.5 cm) 9.25"
Weight(0.5 kg) 1 lbs*
*Contact factory for higher requirements
Ordering
For More Information